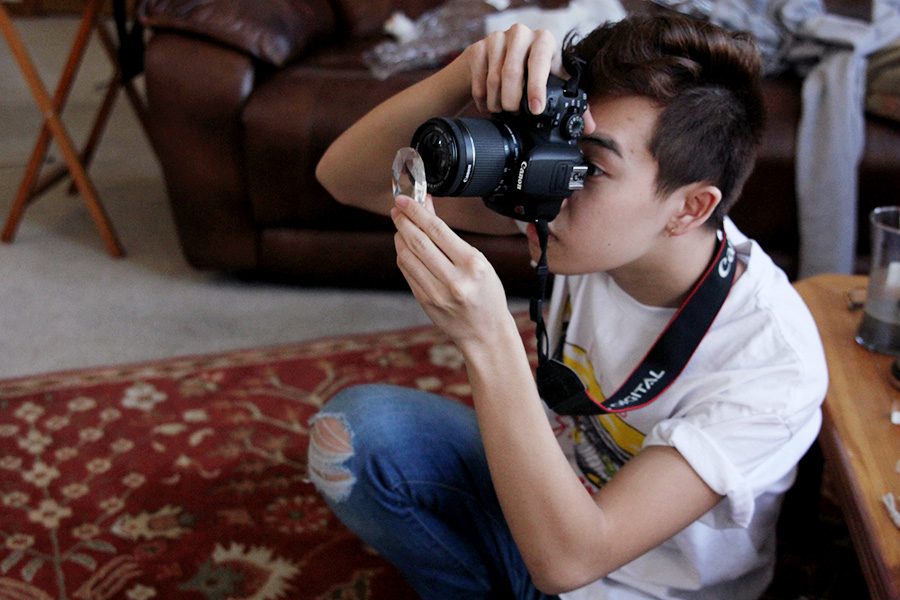 Annie Myers
In the drained pool behind his subject's house, senior Simon Vongxay tilts his camera up at St. James Academy senior Ashley Carlson, who perches on the diving board. The sun spills out from behind her, creating the perfect photo opportunity. Other students along with Vongxay also undertake an interest in photography.
Since picking up his specialty and future career during freshman year, Vongxay has had the opportunities to shoot with his friends and even capture life of the river market in Thailand. Vongxay enjoys photography because of the chance to show others his perspective.
"One of my favorite shoots was in Westport in Kansas City," Vongxay said. "It took place at Admire Your Selfie, which is … a photography boutique where a bunch of models and photographers go. So, I got to experience photographing with other photographers and other people that I haven't captured before."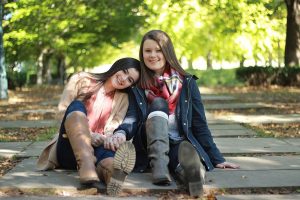 In seventh grade, junior Ciara Pemberton would take photos of her pets, as well as family members in Christmas cards photo shoots. After taking Photo Imaging her sophomore year, she grew more confident with the camera and began taking photos of her friends. 
"I just really like being the one behind the camera," Pemberton said. "I mean, I'll pose for photos and stuff, but I like when I take the photos and showing them to my models and the joy they get from seeing them and just the satisfaction of knowing I'm making them happy with what I love to do. … They love modeling for me, I love taking their photos — it just works out really well."
For senior Desola Omoniyi, a summer camp she attended when she was 13 years old introduced her to photography. At the beginning of the camp, she "wasn't really into photography," but by the end she "decided that [she] wanted to continue [with photography]."
"I'm kind of an introvert, so I'm not good with words," Omoniyi said. "So, taking pictures is one of the ways I express myself without using words. It's kind of just showing people about your life."
On the other hand, senior Sydney Ralston said she has been taking photos since she was old enough to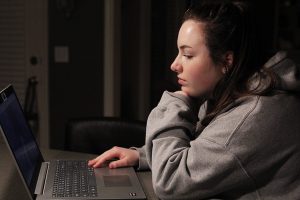 hold a camera. However, she says she became serious about photography and created her Instagram account. Now, she finds herself taking senior pictures, couple shoots, family photos and local companies.
"I think being able to capture a person in time whether it be them smiling, laughing, at their favorite place or with their favorite people is somewhat magical," Ralston said via email. "I think the whole idea of being able to document a moment in time and having it last forever is truly amazing. I have the power to make someone feel like the most beautiful person on the planet just by taking [their] picture."
Before a photo shoot, photographers and models will pick out location and a theme they want to stick with. For locations, they might go someplace close, like Shawnee Mission Park, or travel to a different dynamic, like Westport or Gardner. For themes, Pemberton prefers to shoot in the city and likes the urban feel it brings her photos.
"For me, I think pictures turn out better when you take them with buildings and city structures than just nature, but they both are really pretty," Pemberton said.
The time commitment and precision are obstacles photographers must overcome.
"I would say if you're shooting a wedding or an event … you can't ask for redos," Omoniyi said. "Once the kiss is done, it's done; you can't tell them to do it again. When the race is over and you're trying to capture, say, someone running and they pass the finish line and you didn't get the shot or your settings weren't correct, you can't ask them to do the race again."
#JK&[email protected] More pictures from the event are coming soon. Just keep looking at my beautiful sister @yosola.o till the rest come. 📷 & edited: @photosbydesy
Because he charges for his shoots, Vongxay has learned how to organize and manage his own business. However, he feels keeping up with expenses serves as a challenge.
"It's difficult for photographers to persevere their career if they don't make a good enough income," Vongxay said. 
With her shoots, Ralston feels pressured to confront a client about expenses but knows she has to do it if she wants to do photography as a career.
"I have learned a lot about social media and how much a business or person can grow as a brand," Ralston said. "It's been great being able to be so creative and share my work with so many people."
love love love this & u @stevencurto 💕✨💕✨
Pemberton, in contrast to Vongxay and Ralston, doesn't charge for her shoots. In doing so, she feels the experience has taught her to work without expecting anything other than joy in return.
"I don't charge for my shoots because I do it with friends. I don't feel the need to charge and make them pay because I'm getting the same out of it as they are," Pemberton said. "I enjoy doing it. Just doing things for other people without a reward and just loving what I do is the main motivation I do it."
In the long run, Omoniyi has discovered that "photographers don't really need cameras to take pictures."
"Photography is not really about, say, the type of camera you have," Omoniyi said. "It's just about showing people what's around you and how you appreciate all of that stuff. Just really bringing out your personality to other people and showing the world who you are."