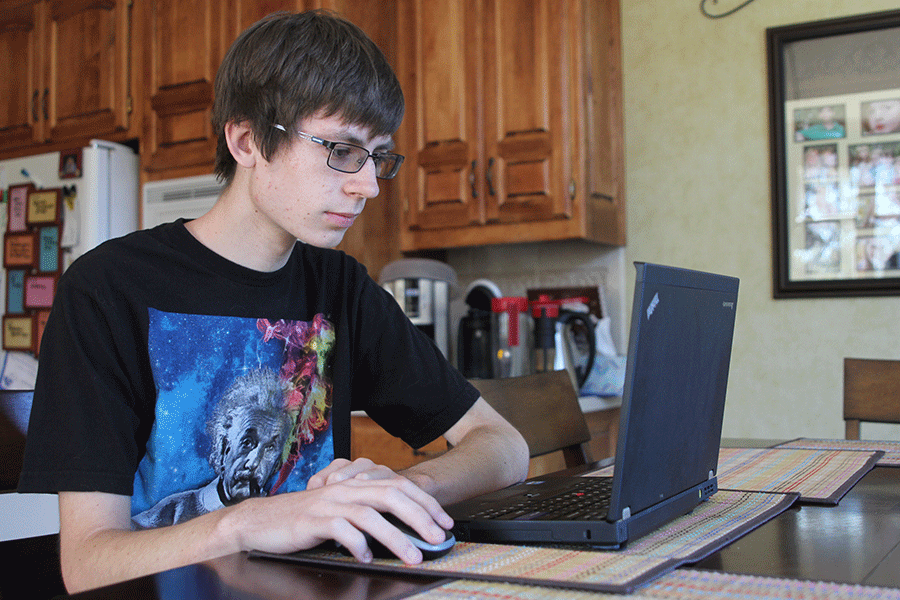 After school and in their free time, any other student might do their homework, watch television, go to sports practice, or hang out with their friends. Juniors Nathan Gawith, Kyle Kappes-Sum and Hanavan Kuhn spend their time with their friends after school on the Robotics team programming and writing applications.
Programming at its simplest is just writing computer programs. However, it's easier said than done, according to Kappes-Sum.
"You start with nothing and in the end, like for our robot (on Robotics), you end up with a fully functioning robot," Kappes-Sum said. "There's several different languages, and it changes all the time. So learning all of it is kind of hard because they keep changing it and updating it so people can do more."
For Gawith, the opportunity to get into programming presented itself with the Robotics team and family ties to technology.
"When I joined the Robotics team, I found that I wanted to program," Gawith said. "My dad is also a database engineer so I probably got interest from that."
The Robotics team also helped Kuhn explore his interest in programming.
"I originally started out doing a lot with electronics, then I really started learning about computers," Kuhn said. "So I joined the Robotics team because they did a lot of that kind of stuff."
Self-interest also led to Kappes-Sum's participation in programming and joining the Robotics team.
"I've always been fascinated with computers but programming is a weird sort of thing that isn't always clear; it's a complicated thing. So that interested me," Kappes-Sum said. "It's a lot of problem solving … and you have to figure out how to make it all fit together. There's nothing you can't do, you just have to write everything to get there. It's sort of like math in that sense."
Kuhn said the ability to create anything he wants keeps him interested.
"You can do whatever you want," Kuhn said. "You don't just have to do Robotics."
For example, besides Robotics, Kuhn is working on a program that will allow users to graph functions on computers.
"Basically, you just type in [a function] and it will graph it for you," Kuhn said. "You can save pictures on the computer of what you've graphed. That's pretty much the only big project I've done."
Gawith's favorite part about writing applications is seeing the end result.
"The whole experience is interesting, just because it's a lot of logical thinking," Gawith said. "It's kind of like a puzzle or solving a Sudoku. Just finishing it feels great because you accomplished a task that you thought in the beginning would be difficult."
Programming isn't all fun and games though, according to Kappes-Sum. The time needed to program is a lot more than what the most people think.
However, working with computers isn't all about programming. Building computers is also an interest among students who enjoy technology, such as senior Patrick Gambill.
"I just enjoy tinkering with electronics." Gambill said. "I take apart electronics around the house that are damaged and mess around with them."
According to Gambill, building computers isn't all that difficult. He emphasizes the importance of following directions.
"It's all preassembled for you. It's like building a bike," Gambill said. "You're not going to build a wheel. You're just going to attach it to the frame."
Although there are many different fields of technology, Kappes-Sum is happy that the general popularity is growing.
"I'm glad to see every year, at least for Robotics, we've been building in the number of people," Kappes-Sum said. "This market is expanding fast. I'm just happy that so many people are finding it interesting."