Students paint pumpkins with famous artwork
As a part of art teacher Jodi Ellis' classes, students painted pumpkins to celebrate Halloween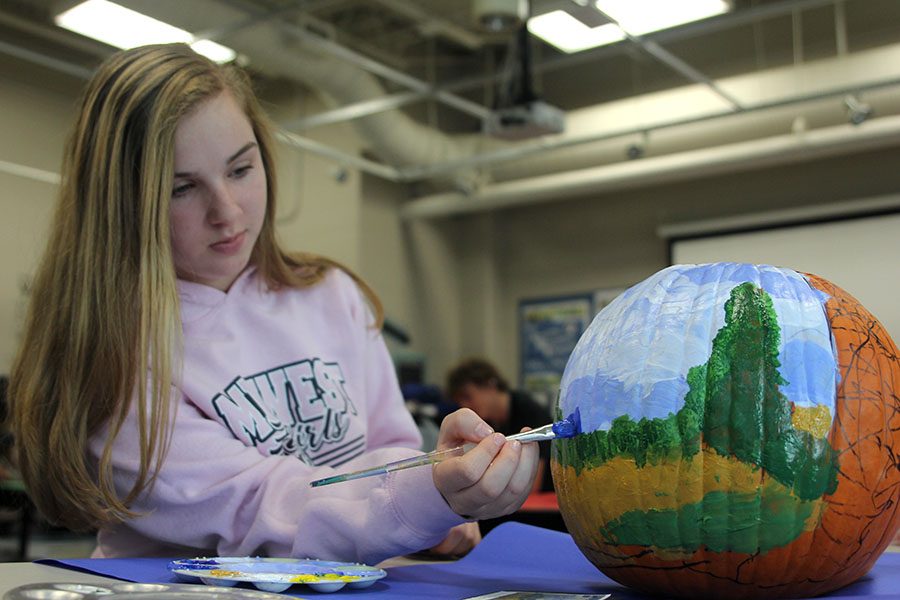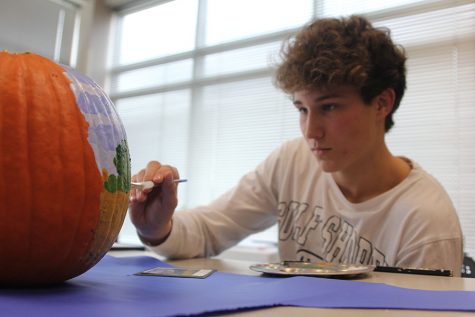 The creative nature of the art room draws you in. Theres the smell of drying paint, on freshly painted pumpkins. The feel-good atmosphere of students expressing themselves with acrylics and pastelles. The past week was no exception in art teacher Jodi Ellis' classroom, as her drawing class started a new seasonal project. The students, ranging from freshmen to juniors, have started a pumpkin painting activity, where they pick a famous painting and attempt to replicate it on a pumpkin.
For her pumpkin, freshman Hayley O'Keefe picked the "Sunset Lichtenstein" by Roy Lichtenstein due to the vibrant colors and unique scene of a sunset. "We chose pumpkins because it's October, and the project is happening over Halloween," O'Keefe said. "They're even displayed in the media center for everyone to see."
According to freshman Danny Talavera, the pumpkins may help students put themselves in the artist's shoes."When we're [painting], you start thinking about what the artist might've gone through, or what he was thinking when he painted it," Talavera said. "It is a lot harder to replicate paintings on pumpkins than you'd think."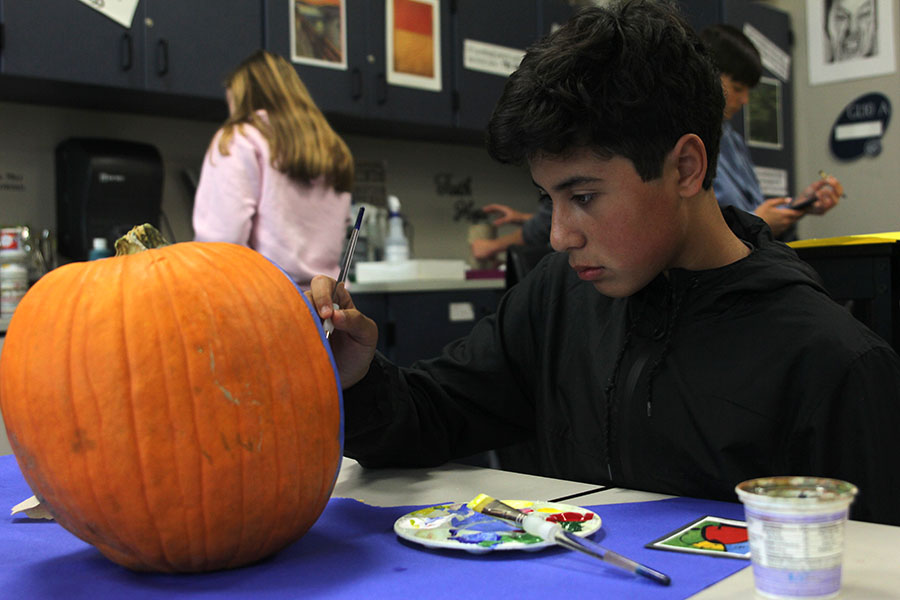 Once the acrylic paint dries, the students add in small details with oil pastels.
"The paintbrushes are really hard to get detail with," O'Keefe said. "Using [pastels] will make it a lot easier."
After painting, the students are required to write a paragraph about their artist, describing "what their lives were like, and what their inspiration was," according to Talavera.
"It was a new experience to paint on pumpkins. It's not something that people do often."
The pumpkins will be on display in the Media Center until next week.
(Visited 114 times, 1 visits today)