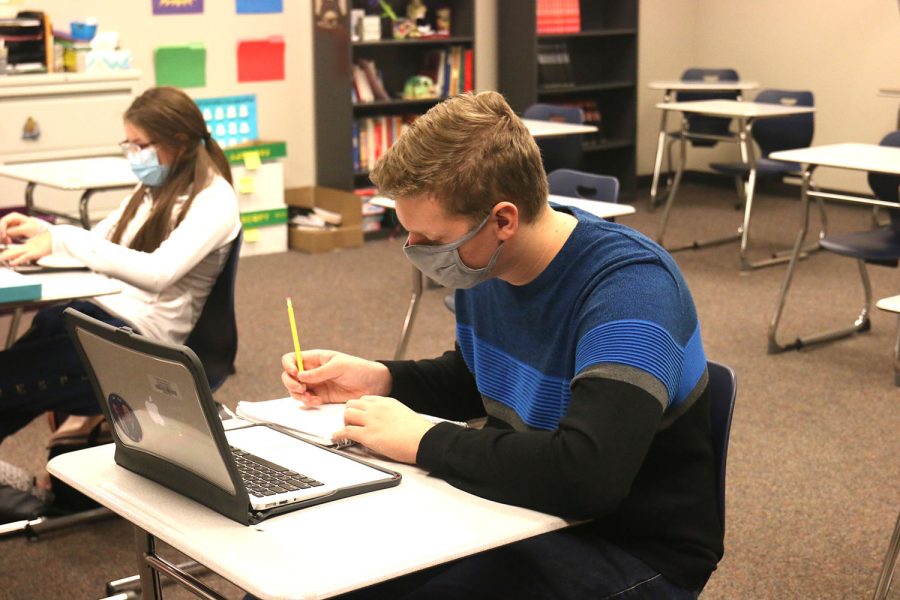 Steven Curto
After months of uncertainty and deliberation, the school board settled on reopening in the hybrid learning model and made the remote model optional. With just 162 students going remote first semester, the vast majority of families determined in-person learning was in their best interest, each decision taking into consideration a unique set of factors.
Staying protected from COVID-19 was freshman Emma Clement's top priority when she decided to go remote.
"I personally didn't agree with the board's decision to open in the hybrid model," Clement said. "I believe that based on how high the numbers were at the time, we shouldn't have been going to school."

Having a large family cemented Clement's decision because if she had to quarantine, so would her parents and four siblings. In addition to this inconvenience, she believed the remote option "would offer more stability as opposed to constantly switching from going to school and staying home."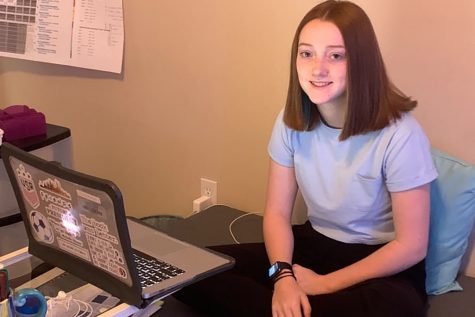 Clement also received insight from her father, a pediatrician at Heartland Primary Healthcare, which helped solidify her plan to go remote. 
"I got to hear about his experiences with [COVID-19], which gave me some perspective on how bad returning to school could be," Clement said.
Other students prioritized having direct contact with their teachers. After experiencing the downsides of online learning last year, senior Addison Stover knew she wanted to do in-person learning.
"I didn't want to sit in my room all year. I have a hard time concentrating at home, and I feel like it's better for me to get out of the house," Stover said. "I also thought it was a good opportunity to see my friends at school and regain some sense of normalcy."
While Stover's parents had doubts about her decision, knowing that most students were opting for in-person learning sealed the deal.
"My parents weren't too happy letting me go back to school, but they realized that all my friends were going back, so they thought it wouldn't be fair to me to keep at home," Stover said. "I also work, so it wouldn't have made sense for me to go to work then not be allowed to go to school."
Likewise, sophomore Paige Dinslage knew the hybrid model would best meet her educational needs.
 "It tends to be stressful doing online because you have to have a lot of organization…" Dinslage said. "I like to be really active in school which is something I couldn't do with the online learning model."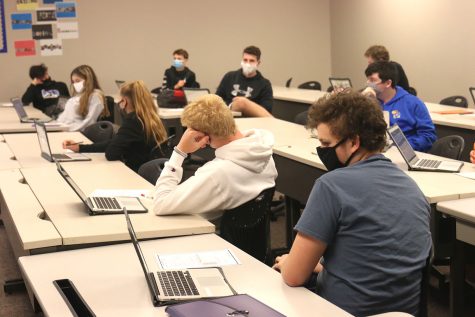 Athletes like sophomore Matt Weis chose the hybrid model to ensure their spot in extracurriculars, in addition to wanting a better school environment.
"[The hybrid model] is the closest thing that we could have to being in normal school," Weis said. "I also chose the hybrid model because I still wanted to play football."
Senior Abby Drumm also chose to attend school in person for the sake of normalcy and so she could maintain and build relationships through face-to-face interactions with her peers.
"I chose the hybrid [model] because I like being able to see my friends and make new ones," Drum. said. "I'm glad I chose my decision so I'm not stuck home all day, every day."
Dinslage is thankful for the hybrid model and believes it was what the student body wanted.
"My mental health, including many others, would go downhill because of all the stress that comes with doing online…" Dinslage said. "I think the school board did a really good job of putting themselves in the students' shoes because many of us wanted to go to school."