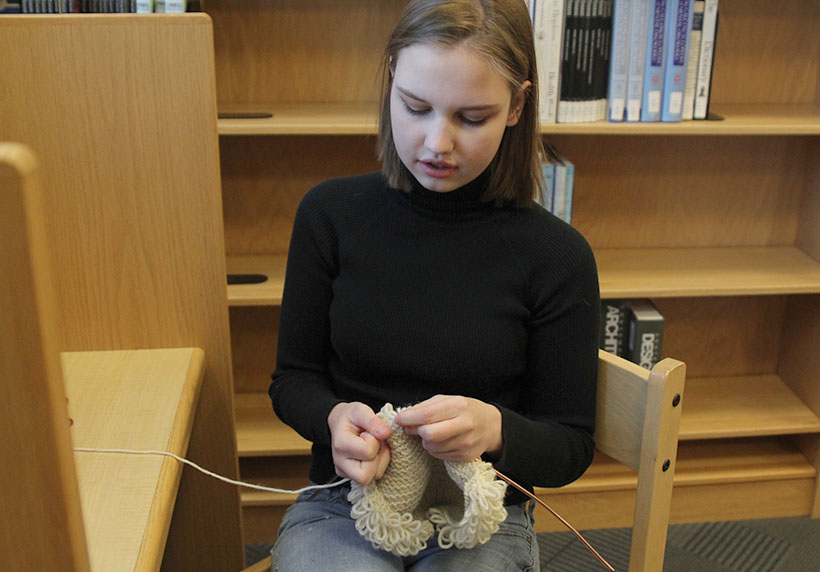 Lexi Flipse
After taking notes on a lesson in math class, senior Marissa Olin retrieves two needles and yarn from her backpack. She begins clicking her needles as she works on knitting another pair of mittens to add to her collection. Olin, along with several other students, have found appeal in intricate, needlework hobbies.
Olin picked up knitting her freshman year after being inspired by a class she took with her grandma. Using Youtube, she continued to self-teach and found knitting to be very convenient in her daily routine.
"It was just something I started to do in class when I was bored," Olin said. "I would knit … during lecture classes and it worked out great for me. I got a lot of cool stuff done."
Her completed projects include various articles of clothing including bags, hats and mittens. She also has created four sweaters, one of which recently won a Scholastic art award called the Gold Key, recognizing her work as one of the best submitted locally and allowing her to automatically be considered for national-level recognition.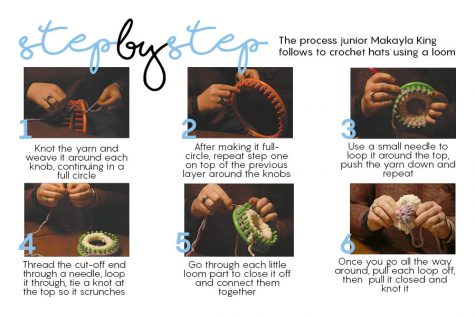 In the same year that Olin began her hobby of knitting, junior Makayla King began a similar needlework hobby called crochet, which manipulates the loops of yarn a bit differently than knitting, to entertain herself while healing from multiple concussions.
"When I got my concussions, [in August of eighth grade] and I couldn't play soccer anymore and I couldn't do anything electronically, I started crocheting to get my mind off of stuff and do something to have fun and take time," King said.
While initially involving herself with crocheting for her own benefit, King's focus changed to allow her hobby to impact the lives of others.
"I began making baby hats and donating them to Children's Mercy for the babies in the NICU," King said. "I also knew a lot of people with cancer so I wanted to start making adult hats for those people."
Currently, King is working on hats for her partnership with a friend's Battle Boutique, an organization that provides more hats to those suffering from the disease and losing their hair.
Aside from both crocheting and knitting entirely, senior Simon Vongxay partakes in embroidery, which involves creating raised, ornamental design on other fabric. He's developed as an embroiderer through self-teaching.
"I realized I did not have money for embroidered designs so I started making them myself," Vongxay said. "Honestly, I started playing around with the needle and thread, but along the way I watched Youtube videos."
Olin, in addition to knitting, embroiders as well. She began embroidering about two years ago after receiving embroidery supplies as a Christmas gift.
"I was terrible at the beginning but I figured a few things out," Olin said. "I stopped trying to make it the best ever. Now, I think it's just a cool hobby and I've encouraged other people to try it."
While Olin, King and Vongxay all enjoy their respective needlework activities, they collectively agree that these projects are typically time-consuming and require patience. King especially said that her bigger crochet projects become long-term.
"[Crocheting] does take quite a bit of time depending on the size of the hat," King said. "An adult hat could take me many days depending on how much time I have to do it."
According to Olin, there are other unique, additional challenges that accompany knitting and embroidery.
"With embroidery, I lose the needles a lot, which is spooky because there are just needles somewhere," Olin said. "Then in knitting, it just kind of a clunky activity to carry around unfortunately because there's just so much fabric and yarn."
To Vongxay, regardless of the duration of his embroidery projects or "how much his fingers hurt afterwards," his final products are well worth it.
"My favorite part [about embroidery], obviously, is the outcome," Vongxay said. "It's so good to see all your hard work pay off."