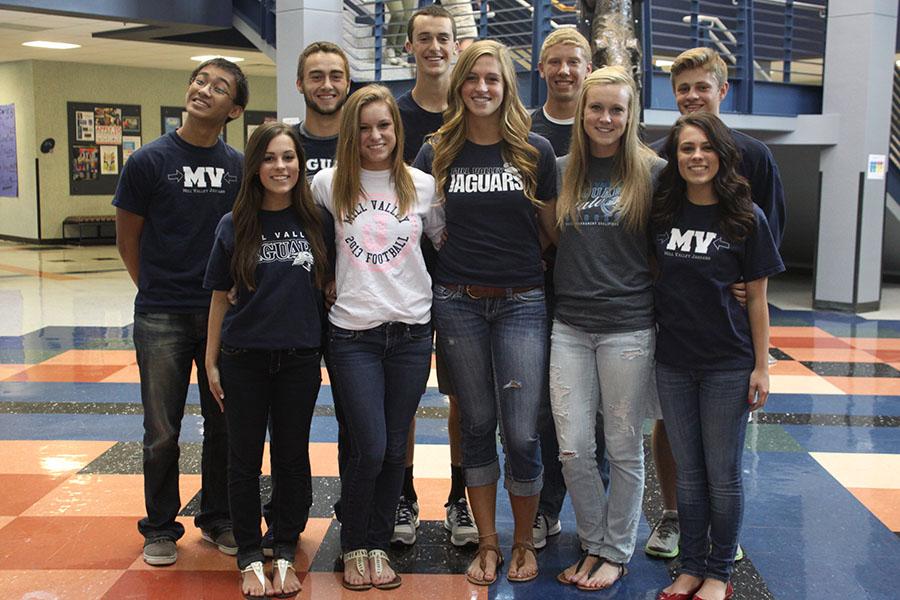 Photo by Kelly Gothard
StuCo has finalized its plans for Homecoming week, including a major change to the dance scheduled on Saturday, Oct. 5 and the list of spirit days.
Recently, StuCo decided on a theme for this year's Homecoming.
"The theme this year will be 'Top of the Charts'. It's a music theme that's based off the Billboard Top 100 songs and other popular music," sophomore vice president Kaitlyn Moore said.
To fit the music theme, StuCo is planning a playlist to go along with the spirit days, listed below. Each day of the week, prizes will be distributed to students with the most spirited apparel.
Monday: Superhero Day – "Kryptonite" by 3 Doors Down
Tuesday: Camouflage/Country – "Camouflage" by Brad Paisley
Wednesday: Class Colors – "Firework" by Katy Perry
Thursday: USA – "Party in the USA" by Miley Cyrus
Friday: Spirit Wear – "Roar" by Katy Perry
The Homecoming parade will be held on Wednesday, Oct. 2, starting at 6pm by Prairie Ridge. Following the parade, students can attend the bonfire, starting at 8pm.
On Friday, Oct. 4, the Homecoming king and queen will be announced during halftime at the football game verses Bonner Springs. Homecoming king candidates are the following seniors:
Davis Cantwell
Joe Vincent
Nick Wilson
Patrick Tapang
Connor Mills
Homecoming queen candidates are the following seniors:
Gabby Fangman
Abby Sieperda
Hope Riedel
Lexie Riedel
Brittany Rouse
Plans are also being put into place for the upcoming dance. StuCo is arranging for two photo booths at the dance this year in order to reduce lines.
According to StuCo supervisor Erica Crist, there will be no check-in at the dance for personal belongings of any kind including shoes, money, phones, and corsages. StuCo recommends that girls wanting to wear heels should wear them for dinner and pictures, but bring more comfortable shoes to dance in.
"The reason why we aren't having a check-in is because this year we have a gym floor mat to protect the floor, so shoe removal won't be necessary," Crist said. "We need to focus on using our staff resources to chaperone the dance, not check in personal items."