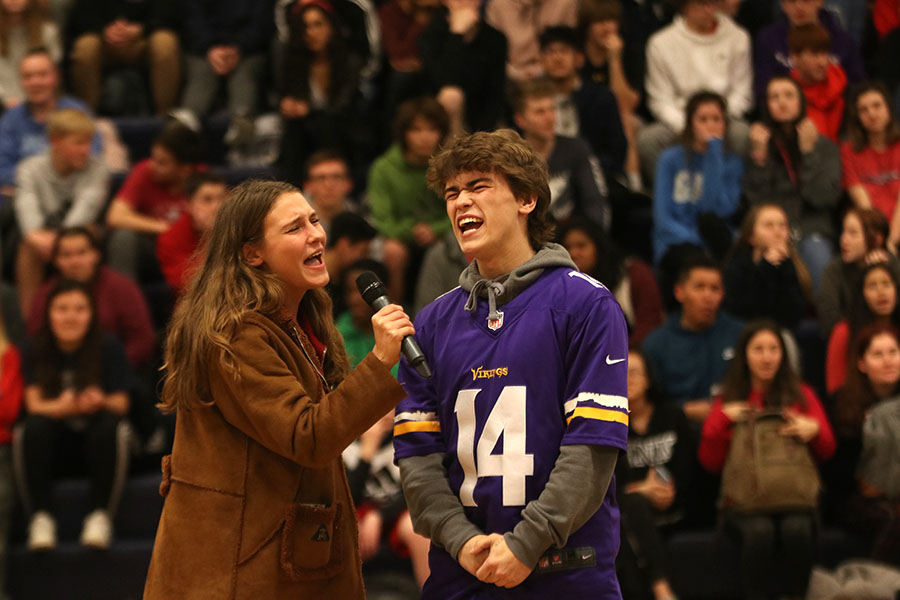 Taylor Moss
Despite the Winter Homecoming dance's cancellation due to inclement weather, StuCo hosted the WOCO pep assembly Friday, Jan. 10 during seminar. Following a performance from both the cheer and dance teams, the WOCO court candidates paired up to perform decade-themed dances of their choosing. 
The cheer team kicks off today's pep assembly! pic.twitter.com/7n5iMBEnYC

— Mill Valley News (@millvalleynews) January 10, 2020
The dances were judged by journalism teacher Dorothy Swafford, engineering teacher Gayle Kebodeaux and business teacher Nicole Porter. Seniors Rylee McElroy and Josh Glunt took first place after performing the Footloose line dance. They were boosted to a perfect score after business teacher Dianna Heffernon-Meyers joined their dance at the end.
According to Glunt, adding a teacher to the dance helped them stand out to the judges.
"We picked Footloose because both [McElroy] and I already knew it and we liked the dance. We then added the part with Heffernon-Meyers two days before," Glunt said. "We needed a special twist and decided to add a teacher. She is absolutely my favorite teacher in the whole world so we chose her."
Student body president Annie Bogart values highlighting the Winter Homecoming candidates because it helps the school appreciate the people who go above and beyond.
"I think it's very important to recognize the candidates because the people that are nominated do a lot for the school, and they should be recognized by the student body," Bogart said. "I think it's a really great way to promote school camaraderie and bring us all together."
Despite performing in front of the entire school, nerves weren't a problem for Glunt.
"Honestly, I wasn't too nervous," Glunt said. "[McElroy] and I practiced a ton and we were really excited to go out there. We had fun with it and had a blast."
The inspiration for the various candidate games at homecoming, Winter Homecoming and prom pep assemblies often comes from middle school memories, according to Bogart.
"It is difficult, because a lot of what we do is from past experience," Bogart said. "[For example,] a game you play in eighth grade was scooters and balls. We make that fun."
In order to increase senior participation in the pep assembly, StuCo was offering Winter 
Homecoming dance tickets for $5 instead of the usual $10 for any senior who stayed for the pep assembly. However, after the dance was canceled, Bogarts believes this hurt the senior attendance at the assembly.
"I think it definitely affected the senior population because there was no incentive for seniors to come," Bogart said. "Obviously, I think it could have been a lot more exciting, but I think we worked with what we had."
Glunt appreciates the senior class electing him to the WOCO court.
"It's such an honor to be picked by my classmates," Glunt said. "I'm really lucky to be a part of this school and have the support of all my friends and teachers."