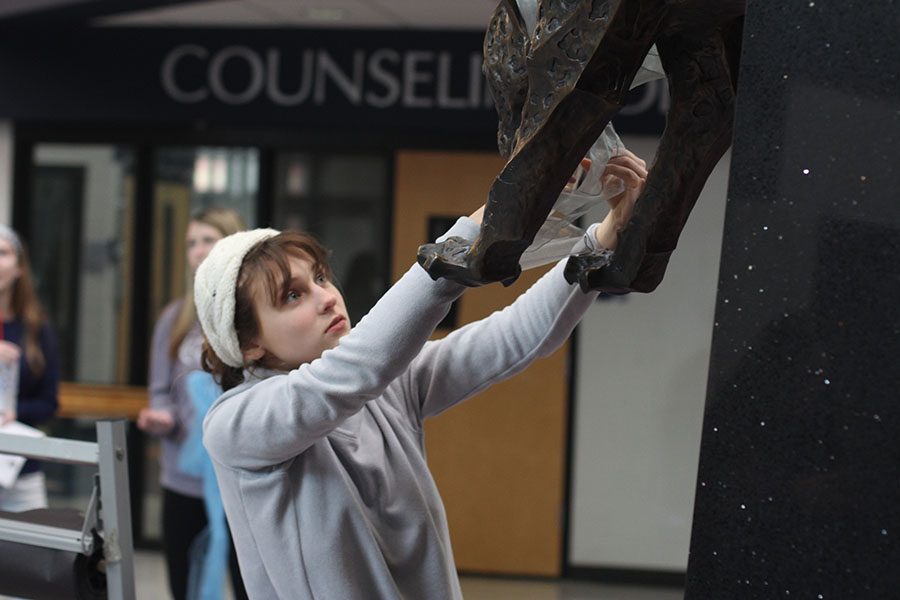 Taylor Sitzmann
On Sunday, Jan. 27, StuCo members decorated for the upcoming winter homecoming. This year's theme, winter wonderland, is an aspired and typical look, for the school's second winter formal since 2012.
"We wanted to go with something a little more classic," junior Avery Altman said. "We thought it would be a good idea to keep things simple, so everyone could enjoy it."
Winter homecoming week spirit days started with pajama day on Monday, Jan. 28, lumberjack attire on Tuesday, Jan. 29, white-out on Wednesday, Jan. 30, northern lights wear on Thursday, Jan. 31 and the week finishes up with Mill Valley spirit day on Friday, Feb. 1, followed by the dance on Saturday, Feb. 2.
Altman and the rest of StuCo have been planning and organizing the dance for longer than some would expect from a school dance.
"We start [planning] weeks in advance," Altman said. "We usually put in about 8-10 hours the week of [for] decorating."
Freshman Bret Weber enjoys preparing for the winter semi-formal.
"My favorite part about decorating is just spending time with friends and getting the opportunity to be creative," Weber said.
The decorated halls and the themed days are some of the more memorable things about homecoming weeks.
"It advertises WOCO and gets people excited about it," Weber said. "It brings us together, it's a camaraderie thing."
After watching all of the plans come together, freshman Elise Canning expects all to go smoothly.
"[Decorations] put the school into a mood to be excited, and it all looks pretty, and gets students pumped for the dance," Canning said.