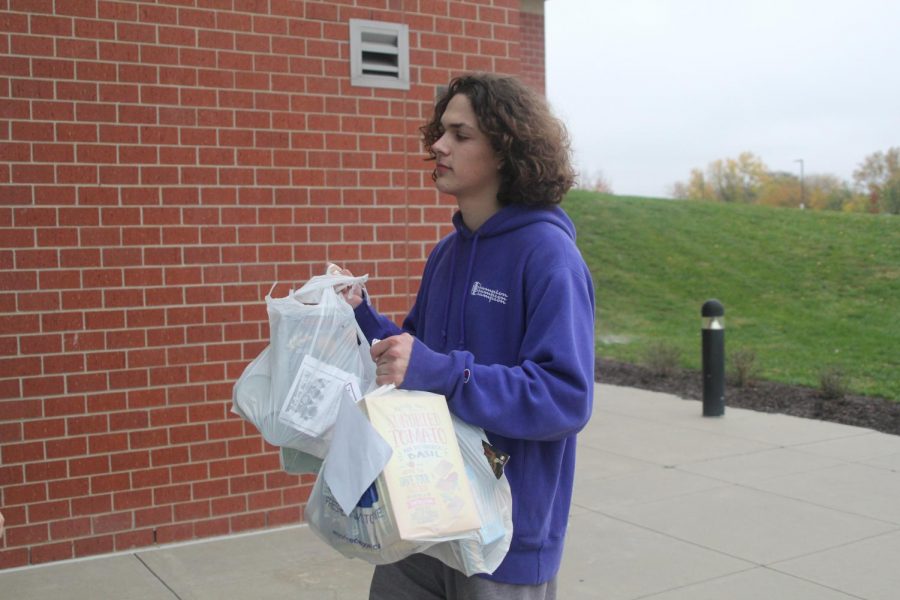 Molly Smith
StuCo and NHS members went door-to-door to collect canned food that was donated to the DeSoto Food Pantry on Tuesday, Oct. 30. The food drive started Friday, Oct. 26, when students left fliers on doors in six neighborhoods advertising the event.
StuCo sponsor Erica Crist collaborated with Mill Creek Middle School lead custodian Larry Coffman, who volunteers at the DeSoto Food Pantry, to organize this event.
"Preparation was fairly simple, we just picked out the dates we wanted to collect food and we contacted some people at the DeSoto Food Pantry," Crist said. "We made some fliers, we went to local businesses to get different plastic bags, we asked kids to bring in bags and then we just attached flyers to the bags and students distributed them amongst local neighborhoods."
According to Crist, fliers were distributed to six different neighborhoods all in close proximity to the school. Around 35 students contributed to the effort. Junior Megan Overbaugh, who helped collecting items today,was happy with the outcome of the drive.
"I think it was very successful, since it was short notice because they handed out the fliers this weekend," Overbaugh said. "I think we collected a fairly decent amount of stuff."
According to Crist, the food drive's importance comes not only from helping those who need it, but making sure everyone has an opportunity to eat well.
"I think [the food drive] is important because there is a lot of times the misconception that people who need food are just lazy and don't want to work. But, places like food banks are places for people who are just down on their luck," Crist said. "There's just a lot different reasons that people throughout their life may need just a little boost or a little help."
Trick or Treat so Others Can Eat is an annual, StuCo hosted event that replaced an unsuccessful annual on-site food drive, according to Crist.
"Years ago, we would have a food drive at the school, and it was just a lot of work for a little amount of food because it is difficult for kids to bring canned goods to school," Crist said. "It just wasn't working and it wasn't very successful. I knew that I had done Trick or Treat so Others Can Eat when I was in high school we decided to try that."
Giving back to the community is the main reason senior Cameron Sizemore decided to participate in the event.
"It's important to help the community by supporting less fortunate people with food donations," Sizemore said.
According to Overbaugh, events like the food drive, that consist of people donating and volunteering, benefit the entire community.
"It's all about community," said Overbaugh. "And everyone working together to help each other."