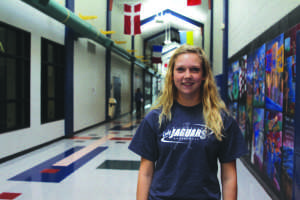 Senior post Olivia Frey
starting playing basketball when she was four years old, and now she is one of two seniors on the 9 person varsity team.
"I love playing, I like the sport and the team as a whole," Frey said.
Frey has gained a lot of experience from being on the team.
"I've learned how to work with a team and how to manage my time a lot more between games and practices," Frey said.
Participating in tennis, softball, basketball and having a job requires Frey to use her free time wisely.
"It's not too hard to balance it all. I work on weekends and do my homework after practice or games," Frey said. "But not having a lot of free time is hard because I usually use it to do homework."
Frey enjoys not having to participate in a organized sport during the summer.
"Having summers off gives me more free time and I love that," Frey said. "But the basketball conditioning camp in June is fun."
While Frey is balancing her schedule, she is focused on a game and has a few tricks to help her play better.
"I always have to wear two socks at one time on each foot. I do it every game," Frey said. "The team also has to wear the same color pre-wrap."
Frey doesn't plan on continuing playing after high school.
"I don't really plan on playing in college," Frey said. "I quit club teams my sophomore year and now just focus on the school team."
The first game of the season is Thursday, Dec. 1 at Blue Valley Northwest High School.
"I'm excited for Thursday's game because it's the start of a season," Frey said. "I hope we can bring out a win."
Lisa Joerling
May 15, 2012

Five major pieces of advice can be gained from my experiences over the last four years

(Story)

May 14, 2012

Softball competes at regionals

(Story)

May 02, 2012

Girls softball team extends record to 15-1

(Story)

Apr 02, 2012

Softball team prepares for first game

(Story)

Apr 02, 2012

Senior pitcher unable to play her last season

(Story)

Mar 30, 2012

Senior softball player adjusts to season after injury

(Story)

Mar 07, 2012

Girls basketball team ends season 18-4, after setting three school records

(Story)

Feb 29, 2012

Brodcast classes teach elementary students

(Story)

Feb 24, 2012

Girls basketball team extends winning streak to 16-3

(Story)

Feb 15, 2012

Girls basketball team earns its revenge

(Story)

Feb 13, 2012

Girls basketball team seek their revenge

(Story)

Feb 03, 2012

Girls basketball team wins 10 straight

(Story)

Feb 02, 2012

Adminstration makes WPA final decision

(Story)

Jan 20, 2012

Senior athlete enjoys high school teams with an excitement for future teams

(Story)

Jan 12, 2012

Girls basketball team 4-3 after winning four straight games in a row

(Story)

Dec 14, 2011

Anticipation builds for school play

(Story)

Dec 14, 2011

Cheerleaders earn two rating at competition

(Story)

Dec 08, 2011

Girls basketball team stays positive after two losses

(Story)

Dec 01, 2011

Senior girls basketball player juggles multiple sports

(Story)

Nov 17, 2011

Girls basketball team begins try-outs

(Story)

Nov 15, 2011

NHS helps make connections

(Story)

Oct 31, 2011

Boys soccer team beats Washington High School, loses to St. Thomas Aquinas High School

(Story)

Oct 20, 2011

Debate season begins strongly

(Story)

Oct 14, 2011

Soccer beats Wyandotte High School 2-1

(Story)

Oct 05, 2011

Soccer team loses 0-5 to Lansing High School

(Story)

Sep 22, 2011

Blue Crew promotes school spirit

(Story)

Sep 09, 2011

Boys soccer team beats Turner High School 2-1

(Story)

Jan 27, 2011

Local restaurant recovers after fire

(Story)

Dec 16, 2010

Coin drive successful

(Story)

Nov 16, 2010

Schools come together to discuss the documentary Babies

(Story)

Oct 25, 2010

New facility enhances Vo-Tech

(Story)

Sep 23, 2010

New football coaches add new perspective

(Story)