Andrew Tow
As the end of the month approaches, sophomore Emerson Kaiser doodles a small drawing on her calendar, highlighting a moment she is grateful for.
Each day, Emerson writes a phrase or sketches on her monthly calendar in pencil to illustrate something positive. Later, she adds hand-lettering and fills in her drawings using pen during the weekends to provide an image of the experience.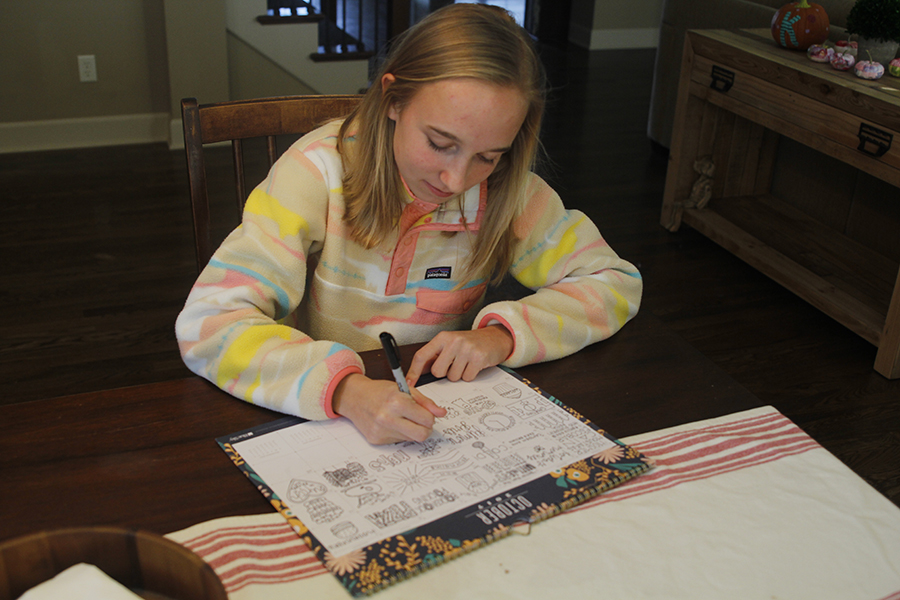 Emerson started drawing on her calendar after a summer spent at Camp Tekawitha, a Catholic youth ministry camp held in Kansas City. Upon seeing the impact that maintaining a daily calendar had on a counselor there, Emerson decided to start her own.
"I thought it was a great way to spread positivity and bring positivity in my life," Emerson said. "I also really liked the aspect of hand-lettering and calligraphy, so I wanted to bring that into it."
Emerson features her completed calendar on her Instagram account at the end of each month. Although she didn't initially plan to do so, "a lot of people gave [her] positive feedback."
Emerson's mom Kasey Kaiser believes that creating the calendar has enabled Emerson to reflect more deeply on her day.
"Regardless of her day, it helps her realize that there's always … something you can be thankful for," Kasey said. "I think it just helps her be grounded and be a stronger person."
The calendars have impacted those around Emerson as well. Since the beginning of Emerson's project, sophomore Morgan Koca has been featured on the calendar.
"It makes me feel good when I'm on [her calendar]," Koca said. "When I go to her house, I'll look at it and I'll see everything she's writing for this month, which is a good time."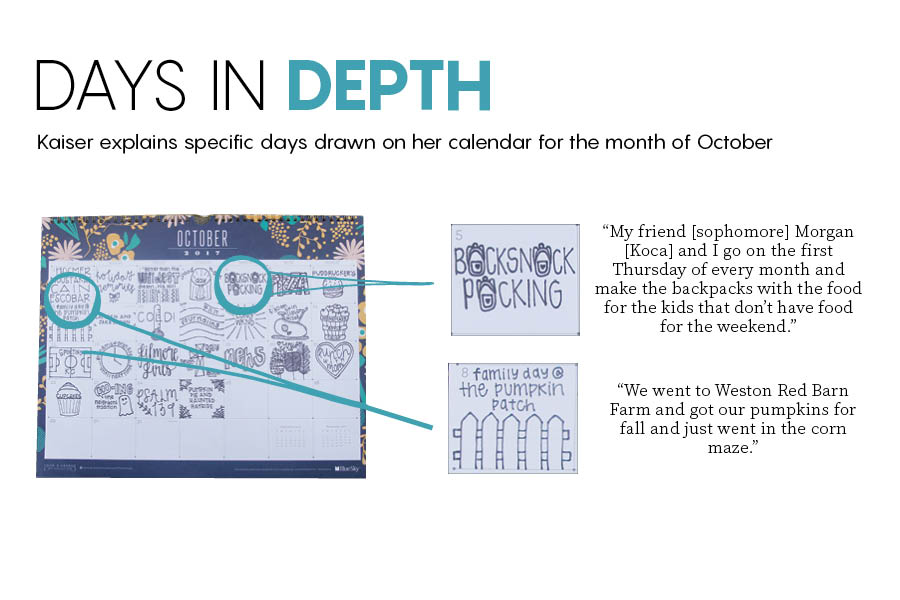 The calendar has also affected the relationship between Emerson and her mom. Kasey found a deep sense of pride in her daughter's project.
"As a parent, you try to instill good values and focus on the good [in your children]," Kasey said. "You don't realize they're listening and learning until you see something like the calendar."
Emerson plans to continue the calendar in the future, because writing down the positive aspects of her day has helped her remain grateful for the little things.
"Sometimes it's easy to look past all [I have] and just not recognize it," Emerson said. "With the great family that I have and the great school I go, [the calendar] is kind of a way to appreciate all that."