Soloists perform in spring Jazz Band concert
While performing on Tuesday, March 26, multiple students performed small solos during songs
The Jazz Band held a concert at the school on Tuesday, March 26 that featured multiple Mill Valley students as soloists.
Sophomore Audrey Hereth was one such soloists, playing a melody on the piano during the song "A Step From The Edge." Other soloists include sophomores Jason Kingsbury and William Howard, juniors Abby Lee, Adam Tilden, Joey Gillette, Sam Greenup and Cael Duffin, and seniors Eric Niewohner and Tyler Jeanneret.
Hereth was very pleased with her performance.
"I thought I did a good job," Hereth said. "Sometimes, whenever I get on stage I get really nervous so my hands start shaking which makes things harder, but I thought all the effort I put into it really showed. I was really proud of myself."
Unlike other instruments in the band, there's typically only one pianist per song, making it a little bit of a solo role on its own, but Hereth says that's not the only thing that sets jazz piano apart from the rest of the band.
"Jazz piano is in the rhythm sections, so we're usually in the background, but we can have solos depending on the songs, which makes it really fun," Hereth said. "You don't have the main melody the whole time, but you can do kind of your own thing."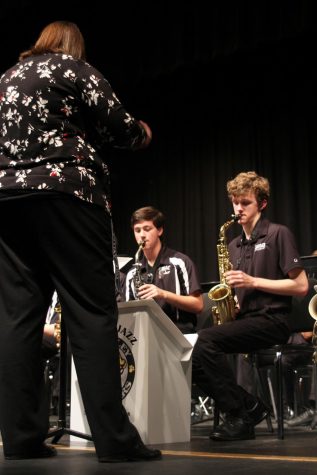 Preparing for a solo requires time and effort, according to senior Eric Niewohner, a trumpet player in the band.
"I practice [my solos] at home a lot more than anything else," Niewohner said.
As the school year starts to come to a close, Hereth is hopeful for her and the band's future.
"I'm hoping as the songs get harder and as we improve as a jazz band, I'll get better too," Hereth said. "I just have to make sure that I practice, keep up everything and make sure that I have a connection with the rest of the band."
Moving away from the jazz band, Niewohner strives for a positive legacy with high school band to serve as a stepping stone for the time ahead of him.
"I'm hoping I'll be able to leave a good mark on the band as I graduate, and I'll be able to have a good foundation for college [level] band." Niewohner said.

(Visited 186 times, 1 visits today)