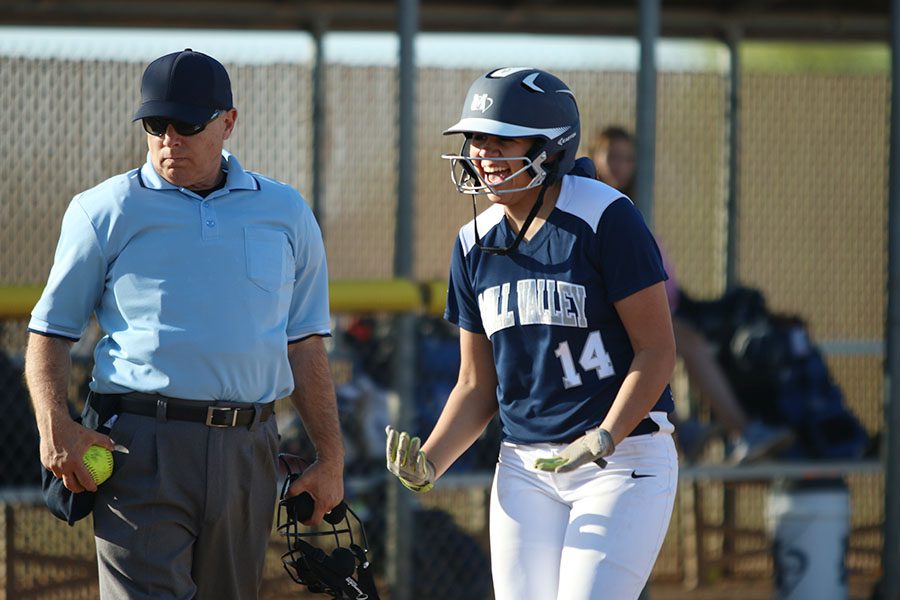 Sophie Rosen
The softball team won its doubleheader against Bishop Miege 15-0 and 16-3 at home on Monday, April 17, improving their record for the season to 3-3.
Senior pitcher Shelby Bonn says she is happy with the team's performance at the games, specifically on offense.
"I feel like the team did really well at our games with hitting and making contact with good pitches," Bonn said.
Freshman third baseman and catcher Jessica Garcia believes that the team is improving their ability to work well together as a whole, and the games reflected that.
"I think I played pretty well and the entire team did, too," Garcia said. "I feel like we're really starting to gel together as a team and have good communication."
Still, Bonn thinks there are various things the team can improve upon for future games.
"In the future, we need to work on eliminating errors on defense and have more consistent hitting overall," Bonn said.
Though it is her first year, Garcia says she is enjoying being a part of the team.
"Being a freshman on the team is pretty cool, I really like the experience so far," Garcia said. "I'm not the only freshman so that helps, I'm also alongside [freshman Lauren Florez.] As a team, [Florez] and I work pretty well together."
Despite having to play better teams this season in the Eastern Kansas League, Bonn maintains a positive outlook for the team's success this season.
"This season is going to be tough since we've moved to the EKL and we're going to have more competition this year than in the past," Bonn said. "But I think if we can continue to improve throughout the season, we can really compete with some of the harder teams in the league."
The team plays next away in a doubleheader against Gardner-Edgerton on Thursday, April 20.