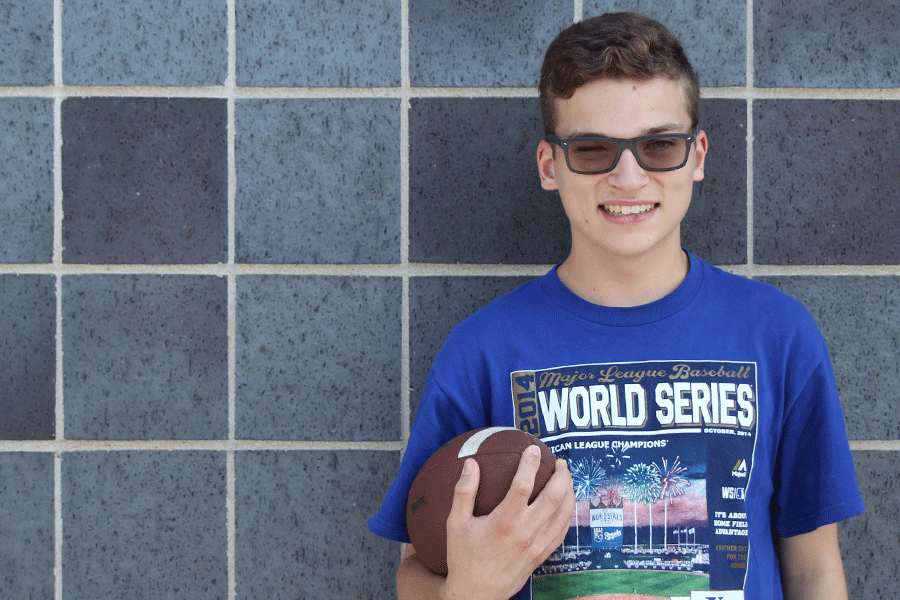 Normally, I try to share my opinions on national sporting news or events happening with local teams and players. This week on the Sideline Report, I want to share my thoughts on a subject that hits even closer to home: the state of the student section. (Bear with me, as I might get a little heated.)
A crowd at a sporting event can impact the outcome of a game drastically. It can confuse opponents, rendering their plays useless and ineffective due to the hostile environment. It can also help lead a team to victory by letting the team feed off of the contagious atmosphere and energy.
At Mill Valley, we pride ourselves in having a rowdy student section that shows up and shows out to each and every football and basketball game. In a way, that is slightly true.
I have a problem with this notion — or, rather, misconception. Yes, at every game a full student section is present, and yes, they like to cheer on their Jaguars, to an extent. But, most of the time, all I see are a bunch of teenagers standing around, not very aware of the current situation happening on the football field or the basketball court.
Now, I'm not here to call anyone out or defame any group of students. I just see that this is a problem since there seems to be a misconception out there that our student section is a force to be reckoned with. In all reality, it's not.
The section rarely cheers, and can at times be pathetic in its few attempts to do so. I love the school spirit that this group has, but at the same time, I'm shocked at how little of it they actually show at games. Come on guys. We're better than this.
The student section thinks that it is a "cool" tradition to sit down at the beginning of the second half until the Jaguars score. How would being less pumped up help the team? Also, it has come to the point where a small section of the pep band can be heard louder and clearer than the student section that largely outnumbers them. At times, you can (almost) hear a pin drop.
I've been to multiple games since I am a member of the band and the student section hasn't impressed me. The cheering — or lackthereof — is disappointing. There seems to be barely any enthusiasm or desire to support the football or basketball team. I understand if the game is a blowout, but even during tight games, the student section gets lost in the shuffle. The band — as well as other students — notice this trend taking place.
Speaking of the band, we know how to support the team. When the boys basketball team was away playing in a tournament at St. Thomas Aquinas, the girls basketball team had a home game. I wasn't there personally, but the rest of the band took it upon themselves to become a "student section" of their own and were praised by players and fans alike for their efforts. They showed what it looked to be a proper student section.
I know basketball and football games are fun times to hang out with friends and support the team competing. But, I feel like the majority of the student section fails to remember that second part: supporting the team.
It is extremely frustrating to me to see these so-called passionate fans waste great opportunity after great opportunity to make an impact on the game. By making noise and cheering on the team, you can make a difference in the grand scheme of things.
Let me give you a great example of a student section. The University of Kansas just won its 38th straight home basketball game Monday night. That is largely, in part, due to the great play by the team, but student section is losing their minds the entire game. The students feel like they play a role in each and every game at Phog Allen Fieldhouse. They are a force to be reckoned with.
I'm not saying the Mill Valley Maniacs need to be anywhere near the level of a college student section. But, they need to have that passion. The desire to will the team that they love so dearly to victory. The student section is so important for an atmosphere, and an athletic program as a whole.
I don't mean any harm by these comments. I am just extremely frustrated, appalled and tired of the student section wasting its potential, then acting like it made an impact. To the members of the student section, I beg you to consider all of this and to make a change.
This is a problem that can be fixed by simply cheering at the games more consistently. Act like you want to be there and support the team. Make your presence known and will the team to victory. Quite frankly, any change would be helpful.
We all want the Jaguars to win. Why don't you go out and show it?
Junior Braden Shaw is a passionate sports fan who follows sports at both the college and professional level. He loves to defend his unpopular opinions on the University of Nebraska, Sporting KC, Chiefs and Royals and is always up for a debate over any game or team.