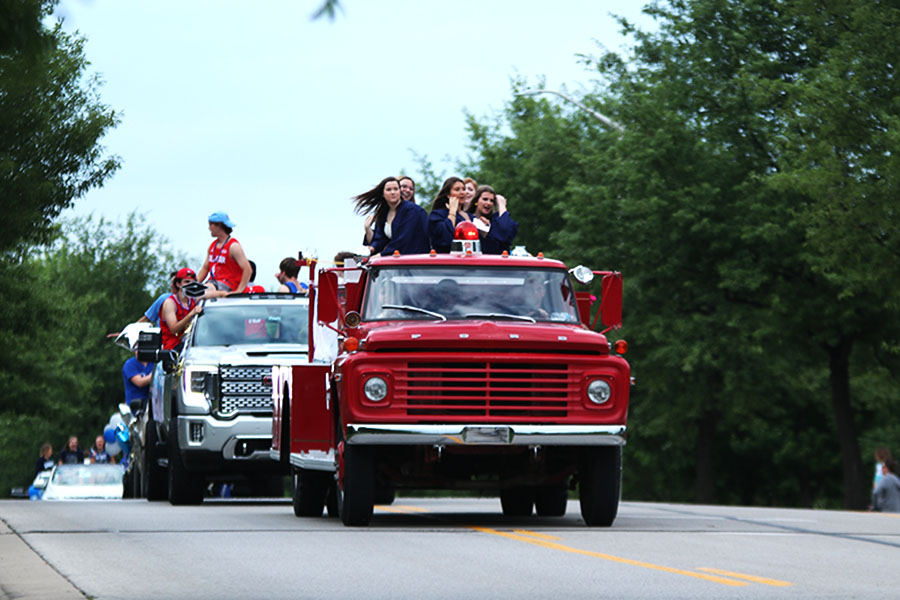 Steven Curto
The Kansas Department of Education dedicated Wednesday, May 20 to be a statewide class of 2020 Senior Appreciation Day where seniors across the state of Kansas were encouraged to do something with their class to celebrate graduation. Three seniors decided that they wanted to participate in the statewide celebration of the senior class, so they organized a senior parade, in which nearly 80 cars full of seniors traveled an 11-mile route.
Seniors Abby Miller, Annie Bogart and Morgan Blubaugh communicated with one another and decided that they wanted to have a senior parade as a means of celebrating the senior class of 2020's unique circumstances and graduation, as the official graduation ceremony was postponed until July 25.
The seniors coordinated with parents of the senior class via Facebook to put the parade in motion. The collective decision was to have the parade be hosted solely by members of the senior class rather than the school and not in conjunction with local law enforcement as their permit was rejected. 
"We did not coordinate with the school because they have been working hard with graduation and other tasks," Bogart said. "Some parents, along with students, attempted to coordinate with law enforcement, but the main reason us students took over this project is because we wanted to create a final senior sendoff, for seniors by seniors."
Following the decision to host the senior parade they had to choose what route they wanted to have members of the senior class take, which largely revolved around neighborhoods in the community where the most seniors reside.
"We talked with several people including students and parents asking their opinions on the most senior populated neighborhoods around Mill Valley," Miller said. "We really wanted to try and incorporate all of the great neighborhoods we have in this community."
To inform the senior class that a parade was occurring Miller, Bogart and Blubaugh sent a message with the date and time of the event to the senior group chat, as well as informed parents of the senior class through Facebook.
"We got the word out through the senior group chat and Abby Miller communicated the plans to the parents by a Facebook group," Bogart said. 
Seniors who decided to participate in the parade were allowed to decorate their vehicles however they wanted. 
To celebrate high school and her next chapter in life, senior Audrey Grabmeier chose to decorate her car with a Mill Valley and University of Kansas sign.
"I designed my car with a Mill Valley and KU sign because I wanted to show how grateful and proud I am to have gone to Mill Valley and the huge impact it's had on me, but also too because I'm ready to move toward the next chapter and go to KU in the fall," Grabmeier said. "It took me a couple of hours to make the posters but was well worth it."
When it came to who to travel through the parade with, Grabmeier selected two friends who would be attending the same college as her in the fall.
"I traveled with two other seniors during the parade," Grabmeier said. "They are some of my best friends and are also going to KU after graduating, so it seemed fitting to end high school with them."
The parade started at 6 p.m and seniors were told to arrive at Stump Park at 5:30 p.m to line up for the parade.
In hopes of being closer to the front, senior Jake Esser and his eight other friends who he rode with decided to arrive at 5 p.m.
"5:00 p.m is when I arrived, I got there to get in line early and it paid off," Esser said. I was in the second car in the parade."
Having participated in the parade, senior Lauren Florez enjoyed seeing fellow seniors and getting to celebrate graduating with her class.
"My favorite part, and the thing I was looking forward to most, was seeing my peers," Florez said. "When our senior year was 'cancelled,' I thought I would never get to tell anyone goodbye, so seeing everyone at the parade made me cherish my class so much more."
Fearing that the parade would not have much support from members of the community and seniors, Miller was shocked and extremely delighted by the turnout but was disappointed that many teachers did not attend the parade.
"I was surprised to see almost everyone in our class. Initially, I was worried about the turnout because several seniors have checked out, but it ended up being incredible. To see everyone come together, students and community members, really made life feel somewhat normal again," Miller said. "However, I was sad to not see many Mill Valley teachers. I was hoping they'd be there to support us."
Everything went according to plan for the parade with no incidents of inappropriate behavior occurring.
"All students that participated in the parade exhibited appropriate behavior, the event ran very smoothly," Bogart said.
Although COVID-19 presented a unique challenge and disappointment to the senior class, Bogart believes the parade was a great way to pay homage to graduating high school and celebrate with and see other seniors for the final time.
"This parade was perfect to end this crazy year because who knows if we will be allowed to have a graduation. [COVID-19] could interfere with our ceremony, and we wanted closure," Bogart said. "We wanted to see our classmates one last time, and celebrate their hard work, and appreciate their four years at Mill Valley."
Appreciative of parents of the senior class, Miller expressed her gratitude and was extremely grateful for the parade as it was one last hurrah of the senior class.
"Ultimately, I want to thank all of the supportive parents who have helped make the end of our senior year the best it could've been, given the circumstances," Miller said. "Many of them helped me, Morgan, and Annie in the parade planning process. Although nothing can make up for all the experiences we lost, this came very close."