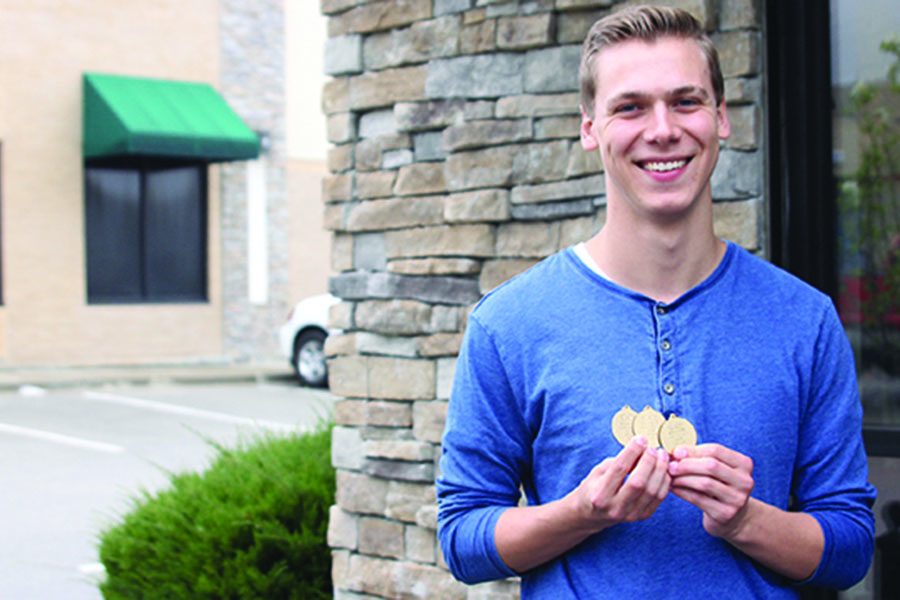 Chris Sprenger
After placing first at state in dive, senior Mitch Willoughby smiles and laughs while standing next to the second place diver on the podium. The season, and his dive career, have come to a close with a splash.
Throughout his high school career, Willoughby traveled to Lawrence to receive coaching for diving, a sport in which the swim coaches here are not as well-versed in, according to Willoughby.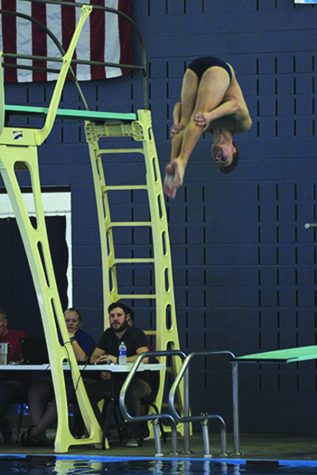 "The swim coaches did the best they could with what they knew," Willoughby said. "They tried to get me to other dive meets, so that was really helpful."
Despite their limited knowledge, the coaches, including head swim coach Dan Dervin, reached out to other coaches to find meets suitable for Willoughby to compete in.  
"The thing that was challenging was knowing that Mitch was going to be prepared for the next step," Dervin said. "[We wanted] to make sure [he] had enough meets so he would be prepared for state."
At school practices, Willoughby would practice dives by himself after learning the proper motions from his outside practices. Willoughby's private coach also taught him various other things about the sport.
"My coach in Lawrence was just really helpful," Willoughby said. "I had to learn how to fill out a dive sheet, how to score things [and] how to do all the coaching side of it because I didn't have that coach to fill out the paperwork for me."
Although Willoughby placed three years in a row at state, he faced several challenges that came with being the only diver.
"It's a lot of self-motivation," Willoughby said. "When there's no one there to push you, you kind of slack off, so you just have to be driven."
While Willoughby doesn't plan to continue with diving after high school, he currently enjoys coaching eighth-graders in dive and sees coaching as a good way to remain involved in the sport.
"I didn't think I would like [coaching], just because it's hard going from doing it to trying to tell someone else how to do it with [just] your words," Willoughby said. "But it's a lot of fun; I think it'll be a fun way to transition from the sport, still being able to stay in the sport but in a different area of it."