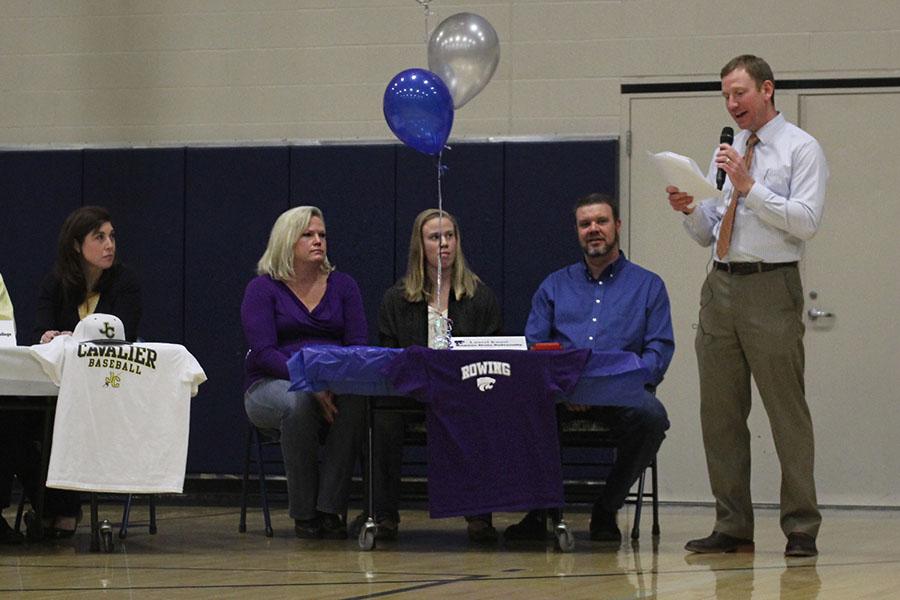 Photo by Karissa Schmidt
Although she has never rowed before, senior Laurel Knust was recruited by Kansas State University to be on their rowing team for her freshman year of college.
Knust officially became the only Division I rowing athlete out of Mill Valley this year when she signed her letter of intent on Friday, February 7.
Knust thinks this opportunity will be fulfilling and a good chance to play something other than golf or basketball.
"I'm looking forward to something new," Knust said. "It'll be a new experience [to row there]."
Despite the fact that Mill Valley does not have a rowing team or club, she was selected based not her ability to row, but mainly because of her overall athletic ability.
She has proven to Kansas State that she would be a good addition to their team athletically.
"I was recruited probably because of my height and my athleticism," Knust said. "My guess is that they looked at our basketball roster … then called our counselors [to recruit me]."
However, recruitment for rowing was not the only reason Knust made the decision to attend Kansas State.
"All of the offers I had for basketball and golf were from Division III and Division II schools, which I had no problem with," Knust said. "But most of [the offers] were out of state and a lot of them did not have my major and Kansas State has a really good engineering school."
In order to stay in rowing shape, Knust must train throughout the summer doing exercises for rowing.
"The coach gave me some workouts that I've been doing during the spring," Knust said. "She gave me a team workout to do over the summer."
With this recruitment, she has also been able to receive in-state tuition and a scholarship from Kansas State.
"I get 10 percent tuition and all my books paid for," Knust said. "I also get five meals a week at the performance table [paid for]."
Knust says her family is excited for her decision to try something new.
"I think [my family] is happy," Knust said. "They're happy that I chose something other than golf or basketball."