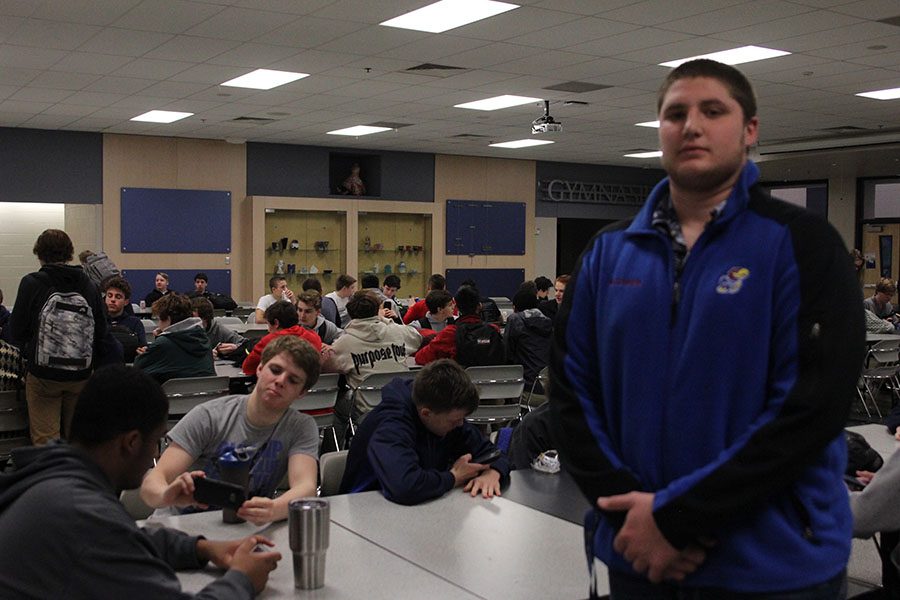 When students walk into the cafeteria in the morning, it is almost certain they will see senior Jake Campbell and other football players sitting at one of the tables.This is because of zero hour, a before school weights training program the football team participates in every morning all school year.
The players are finished with zero hour around 7:15 every morning, so they are usually the first ones in the cafeteria. Campbell has been sitting there in the mornings since he was a freshman, and according to him, the tradition was started years ago by seniors.
For Campbell, sitting in the cafeteria  every morning gives him an opportunity to spend time with his friends on the football team.
"It's nice to be able to talk to friends before school starts," Campbell said. "Most of the people on the football team are good friends, so it is always nice to be able to catch up with them."
On the average day, the table is full of exuberant boys eating breakfast and getting ready to start the school day. Campbell believes this strengthens the team's overall bond.
"You're able to be a team outside of the weight room, outside of football practice," Campbell said. "You're at school, but you're not in school, so you can talk and see what's going on."
According to sophomore Eli Midyett, a football player who sits with Campbell in the cafeteria every morning, the tradition began naturally and soon became routine.
"I don't think it happened on purpose, we hang out together a lot, so we just started sitting together after we work out," Midyett said.
Sitting together everyday has allowed Campbell to get to know each teammate better, and according to him this has caused the team to get better. He believes being able to sit together every morning in a specific area helps bond the players, which ultimately helps the team.
"Teamwork is entirely what football is, if one cog [in the machine] isn't working, the whole team doesn't work," Campbell said. "I know all of my teammates now because of being able to sit there in the morning. You're able to know them so it makes the team a thousand times better."