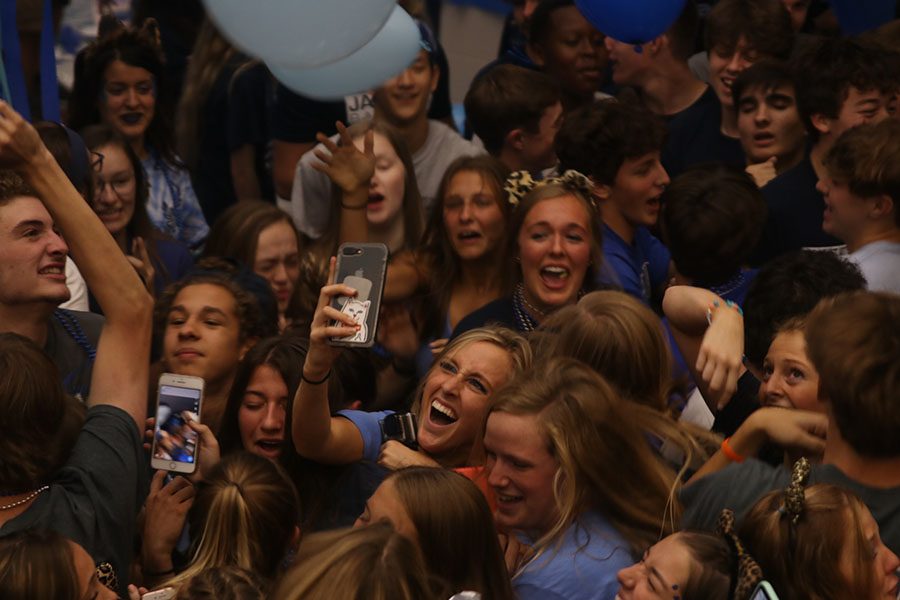 Allison Seck
To celebrate the end of Homecoming week, seniors came to school at 5:00 a.m. to deck the halls with their spirit during the annual Blue Bomb on Friday, Sept. 21.
Blue Bomb is a longstanding tradition at Mill Valley. Every year on the last day of homecoming week the seniors come to school and decorate the foyer and halls with blue plates, balloons, and streamers. The underclassmen watch from the second floor waiting for their chance to be in the party.
Seniors bring just about anything blue they can find at Walmart, the Dollar Tree, and their homes. According to senior student body president Annie Bogart, the stores seemed to be sold out of everything blue 
"Last night my friends and I raided the Bonner Walmart," Bogart said. "All of the Walmarts over here were sold out."
After decorating, the morning was filled with dancing and singing. The playlist included the Mill Valley fight song, classic chants students yell at football games and Sweet Caroline amongst many other songs.
"We all jumped around and it was so fun. All around the music was great," senior Sophia Ralston said. 
Bogart thought it was the best Blue Bomb she'd seen in a long time.
 "We only get one [Blue Bomb] and it was really fun," Bogart said. "I think that was one of the better [Blue Bombs] we've seen in a while."
Clean up was especially bittersweet for senior Tina Talavera. 
"I'm really sad that it's finally hitting me that we're like seniors. And this is kind of like the start of the end," Talavera said.