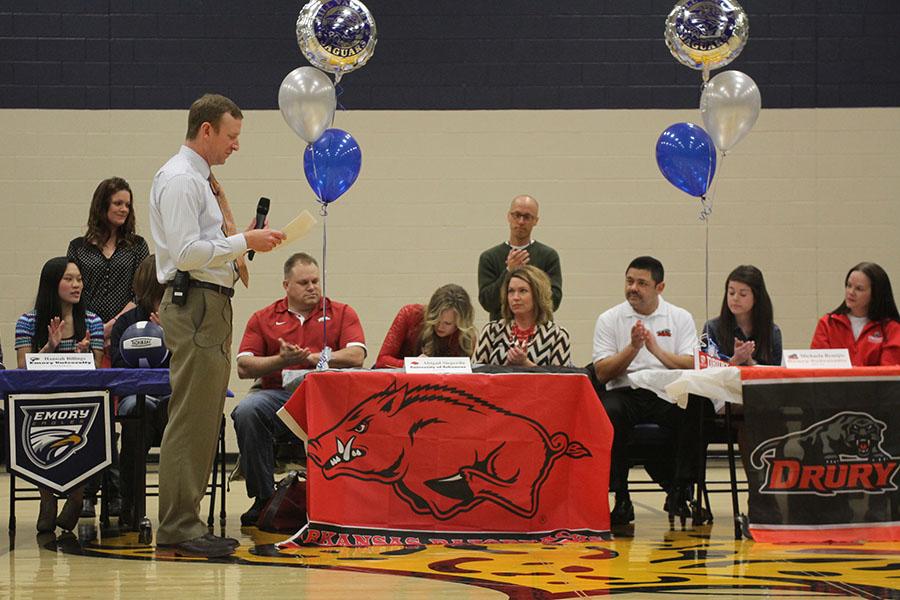 Photo by Karissa Schmidt
After twelve years of playing soccer year-round, three of which she played varsity, senior Abby Sieperda will graduate to become a Division I athlete at the University of Arkansas.
Sieperda has been verbally committed to the University of Arkansas since her sophomore year even though she just signed her letter of intent on Friday, Feb. 7.
However, Arkansas came looking for her to be a part of their team.
"I was recruited. I did national showcases with my club team, and then we had at one point like 80 coaches watching our games," Sieperda said. "I had talked to a lot of coaches and then once I talked to Arkansas, I went and visited [the campus], and that's how I finally committed."
Sieperda has received in-state tuition due to her high score on the ACT and will get most of her school paid for by her soccer scholarship.
"It's not a full ride but as the years go on I'll get there," Sieperda said. "I'm pretty close to a full ride though … so I don't have to pay for much."
In order to be prepared for Division I soccer, Sieperda still practices and trains in the off-season.
"Since I'm not playing high school soccer, I practice with my brother's team three days a week," Sieperda said. "Once high school is done, I'll start training with my club team for nationals in June and then I leave for college right after that."
Sieperda said that she has high hopes for the season and being a part of the team her first year of college.
"I'm looking forward to being able to play as a freshman and I'm hoping that I'll eventually be able to start," Sierperda said. "It's great just being able to play a college sport and be Division I."