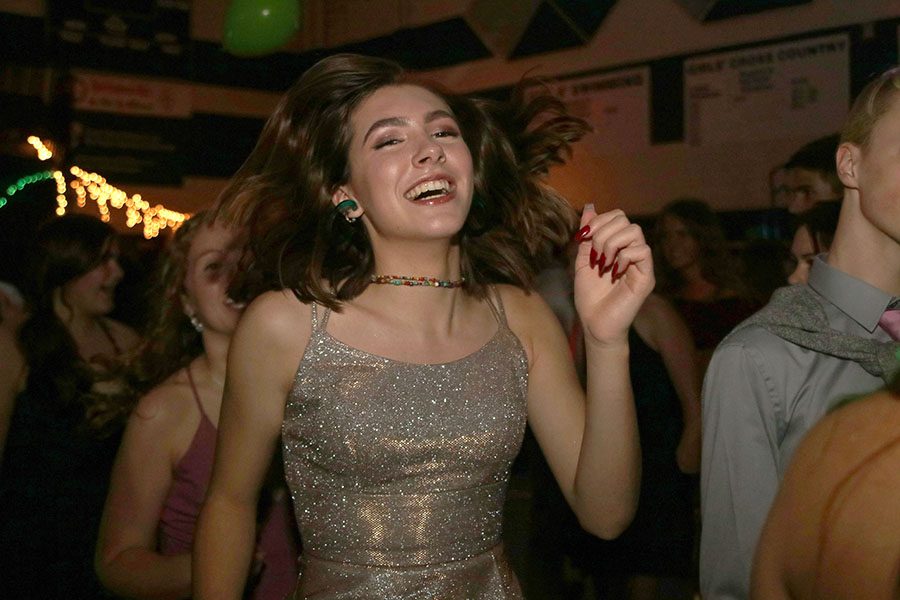 Lily Godfrey
When walking into the school, the Galactic Rodeo theme was very apparent with rocket ships, hay bales and cacti covering the entrance. The theme was portrayed with aliens, cowboys, and lights all around.
The DJ did a great job of keeping the music upbeat and choosing songs that kept students dancing and singing along all night. The playlist included Party in the USA, Super Bass, and Don't Stop Believing for freshman Allison Rader those songs made the dance better.
"The throwback songs made everyone excited and brought the energy up," freshman Allison Rader said.
A green screen and photo booth provided photo opportunities for students to cherish and reminisce on the dance for years to come. 
"I liked all the options they had for pictures, it was really great," Rader said.
This year, the was dance held only in the gym, rather than a commons and gym combo. Part of the gym was used for photo opportunities, the snack bar, tables and chairs for students to get off their feet and take a break from dancing. 
The new set-up gave the dance a better flow by having one big, communal space opposed to having the dance split. The new space included everyone, even those who were not interested in dancing. According to Rader, the open plan of the dance made it more enjoyable.
"I really liked how it was completely open," Rader said. "It made it more fun to dance around because not everyone was on top of each other." 
Overall, the homecoming dance was a success with over 600 students attending.
"At the dance, I feel like people are able to be themselves and not worry about anything else, and that is something that I will carry with me," Rader said.