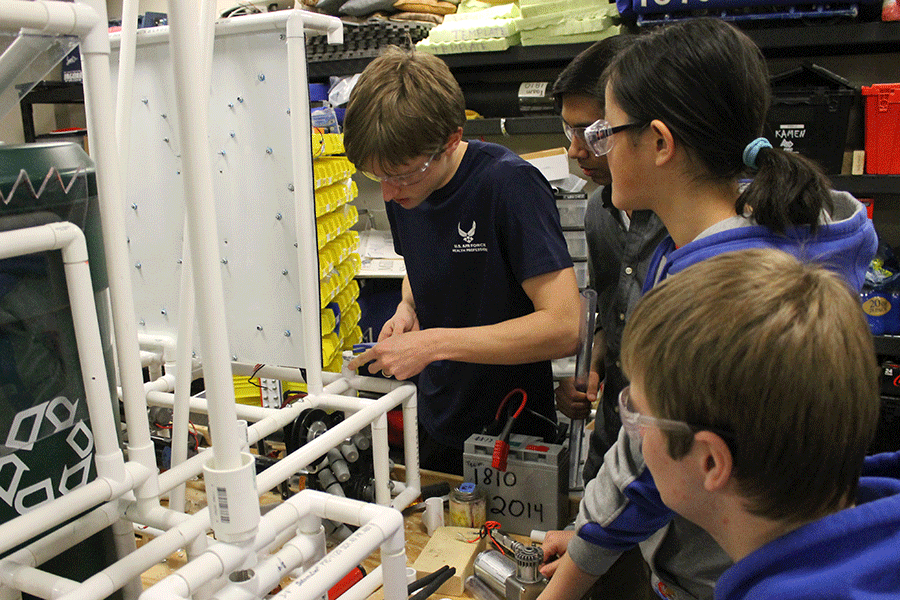 Photo by Laura Earlenbaugh
The robotics team began building its robot Saturday, Jan. 3 and will continue through the six week build season until Tuesday, Feb. 17. Their Greater Kansas City FIRST Regional competition is from Thursday, March 12 to Saturday, March 14.
At the first few meetings, robotics members learned the rules for the year's game, stacking and decided the simplest way to earn the most points during competition. After the design was set, they split into groups of engineering or chassis building with PVC pipes, electrical wiring, programming and various others.
According to lead mentor Gary Hannah, the chassis is currently built with mounted wheels, electrical box, reach arms and drive motors and will continue to be added to until the deadline.
"We're working in continuity in all groups, but [the groups] are starting to come together," Hannah said.
One new aspect of the robot is its four mecanum wheels. They allow the robot to not only move forwards, backwards and turn, but to move in any direction without turning which will improve the movement of the robot but also make driving the robot more difficult.
According to senior programmer Adam Horwitz, who took on the challenge of programming the new drive system, the equation took a while, but he figured it out.
"I am setting up so we can [steer] the robot across any direction," Horwitz said. "With this we can drive straight sideways instead of having to turn the robot and drive forwards. Before it was just get the x-value from this controller or the y-value form this one and send it to the motor, now we actually make calculations because we have wheels on the wheels that are turning the forces."
Another program feature is the scouting program which will allow competition onlookers to view the statistics and rankings of the differing robots during competitions.
"The scouting program is going to be used to display information we're collecting at the regional competitions," sophomore Nathan Gawith said. "During the competition we'll have six different people with controllers inputting information about what all of the robots are doing. The scouting program is going to display [the data] so people can come by [the pit] and look at all of the information during the competition."
According to Hannah, robotics has been a worthwhile experience for its members.
"It's a lot of hard work, but these guys learn a lot of stuff that you wouldn't learn until you get a job," Hannah said. "They end up learning and excelling in a lot of areas."