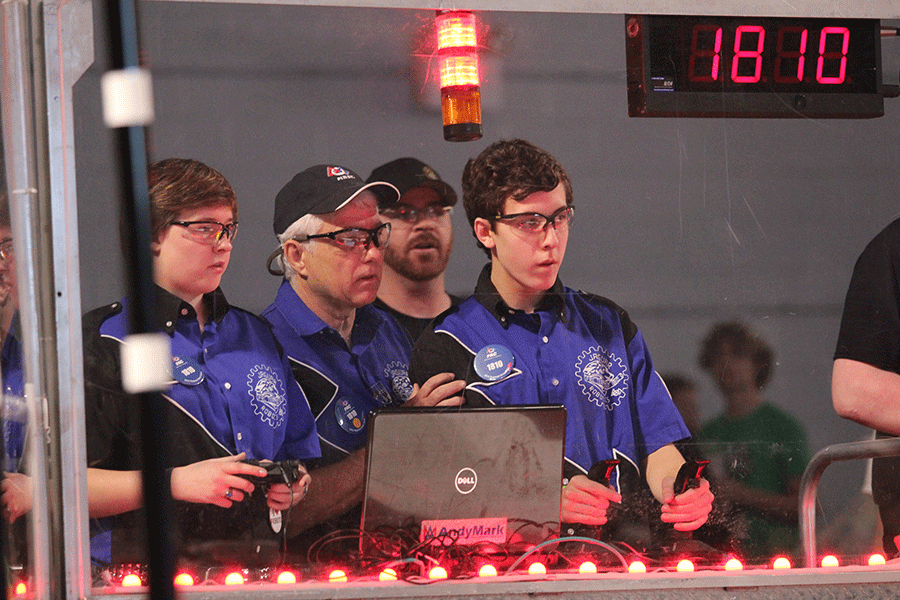 Photo by Raya Lehan
The robotics team began its two day Greater Kansas City Regional FIRST competition on Friday, March. 13 starting off with one match won and one lost.
With a day and a half and eight more matches to go, De Soto robot driver junior Rhett Pierce was satisfied with the start of the competition.
"This year we were a little bit behind schedule so we did not get as much time as we would like [to practice driving] but we had a day or two," Pierce said. "We're still working out the bugs. The first couple of matches you always have something go wrong so we're working on it."
The competition is using student-operated robots to stack totes, move recycling bins and toss away litter, which include pool noodles. Despite dealing with an electrical rough patch, junior driver Sarah Soriano was excited to see the competition outcome.
"It's pretty cool to see something you make work like that in the [six weeks] of build time we get," Soriano said. "We've got to get better as the day goes on."
Another highlight of the first day was sponsor Mary Beth Mattingly winning the Woodie Flowers Finalist Award, presented to one adult mentor at each regional competition. Awards winners are mentor who lead, inspire and empower using excellent communication skills.
After the second match, the robotics team sat around the pit talking about ways to improve for the next competition while the engineering team modified the robot claws. The claws grab a tote and raise it up so another tote can fit underneath it, forming a stack.
"We're hoping that when we lengthen [the claws] the totes will be more secure when they're being held," sophomore Taylor Barth said. "The claws are fun and different than other ways that teams are holding their totes."
On Saturday, March 14, the top eight teams, based on number of team wins, are chosen to be alliance captains. Each of the eight teams then pick two other teams to form their three team alliance. According to Mattingly, the team hopes to either be in the top eight teams, or be picked to join one of the eight teams.
"I just hope we can continue to do well," Mattingly said. "That's all the team can hope for."