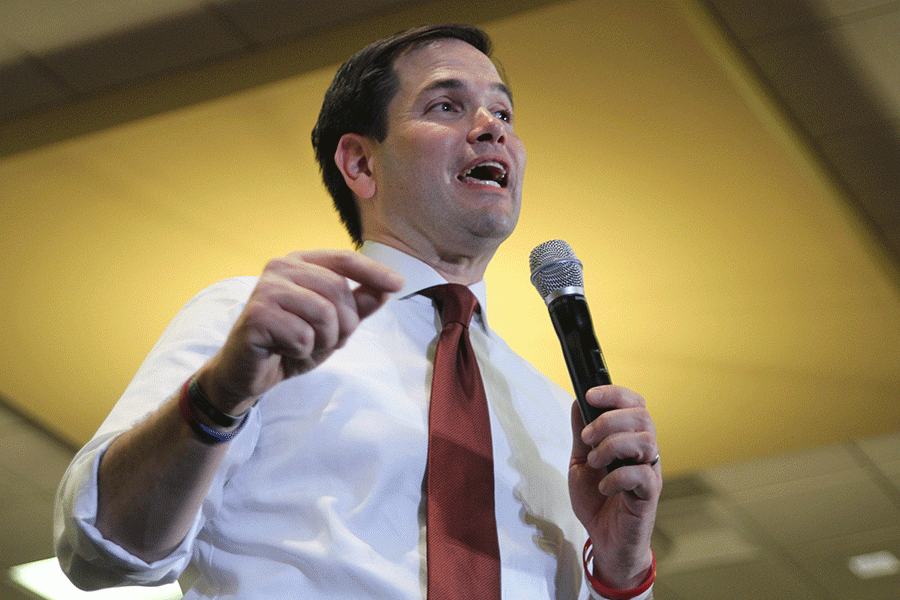 Elizabeth Fleming
Going to a rally for Republican presidential candidate Marco Rubio wasn't originally about hearing policy points for junior Olivia Jamison. Jamison, who will be able to vote in the upcoming presidential election, attended Rubio's rally at the Marriott in Overland Park on Friday, March 4, initially went with her mom for the opportunity to see a high-profile politician.
"My mom, she's really involved in politics, and it was an interesting thing because this might not happen in our lifetime again," Jamison said. "He might not come somewhere close to us where we can be able to see him and meet the future president."
The rally convinced Jamison to support Rubio, though, as she listened to the Florida Senator speak to a crowd of over 1,000.
"I really liked how he said about the Common Core and how it's not something that he truly believes in, and I just do not like Common Core at all," Jamison said. "Saying how … our generation can be the best generation, and I really liked how he says things like that."
Rubio focused heavily on foreign policy and military, including defeating the Islamic State group, improving veteran's treatment and supporting Israel. Additionally, he talked about why he supports a free-market economy, his support for millennials and why he thinks he is the best conservative to run for president.
"Our principles don't change," Rubio said to the crowd. "And that's why our nominee must be a new, true conservative."
Rubio trailed GOP presidential candidate Donald Trump by 13 points and GOP presidential candidate Ted Cruz by one point in the most recent poll of Kansas, taken by Fort Hays State University from Friday, Feb. 19 to Friday, Feb. 26. In that poll, 39 percent of Republicans said they were undecided.
Rubio brought former Pennsylvania Sen. Rick Santorum — the runner-up for the GOP nomination in 2012 who won the Kansas caucuses and ran in this cycle as well, but dropped out after the Iowa caucuses — along with Gov. Sam Brownback and New Mexico Gov. Susana Martinez.
Rubio spoke highly of his endorsers, including Brownback, who some of the crowd initially booed.
"If you talk about someone who walks the walk in public policy, and someone who's courageous in doing that as well, it is your governor, and I am grateful … and honored [for his support]," Rubio said.
After the rally, Brownback advised young voters to look at both policy and electability in candidates, both of which he said Rubio has.
"I think he's the one that's got the best track record and plan to move the country forward for another American century, and he can win," Brownback said. "I think you need to pick people that have good policy positions and that can win, and he can do both."
Cruz held a rally on Wednesday, March 2, at Johnson County Community College, making Rubio the second GOP candidate to visit Kansas. His Overland Park rally came after he visited Wichita and Topeka the same day.
Multiple people at the Rubio rally said they went to Cruz's rally as well, and were deciding between the two. This included state Rep. John Rubin, who represents Shawnee.
"I would be thrilled with either a President Rubio or President Cruz in the White House," Rubin said. "Either one of those gentlemen will restore America to its former strength, reinvigorate our military, reassert our prominence in the world and reinvigorate our economy."
Others at the rally were decided on supporting Rubio. Lenexa resident Karen Vander Pleog, who supports Rubio and has volunteered for him, said before the rally she supports Rubio's positions on immigration, the Islamic State group and economics, along with social issues.
"I love his Christian values," Vander Pleog said. "I love the family unit that he's got. I think that he's going to be a great president."
Rubin, who was undecided on who to caucus for after the rally, said everyone should caucus, and they should especially consider Rubio or Cruz.
"I encourage all citizens to exercise their franchise at the ballot box. I'm a Navy veteran from the Vietnam era, that's what we fought for," Rubin said. "To restore a strong domestic economy and a strong foreign policy, and to protect our security, we need to vote for either Sen. Rubio or Sen. Cruz for president."
Vander Pleog, who said she was volunteering at a caucus and planned to caucus for Rubio, said Rubio is the candidate Republicans should support because of his faith.
"I just think he's a good man, and we need a good, God-fearing man," Vander Pleog said. "And we've got a bunch of joker, other candidates that cannot be president, so we've got to vote for Rubio. There's a lot of other things why to vote for Rubio, but that's the main thing, because he's a Godly man."
While she was not registered to caucus, Jamison did say she would support Rubio if he were the GOP presidential nominee, as she views him as an alternative to Trump.
"I just like his views on most things that he's been talking about," Jamison said. "I just truly don't believe that Trump is someone that can go far in the elections."
[View the story "Republican presidential candidate Marco Rubio campaigns in Overland Park" on Storify]