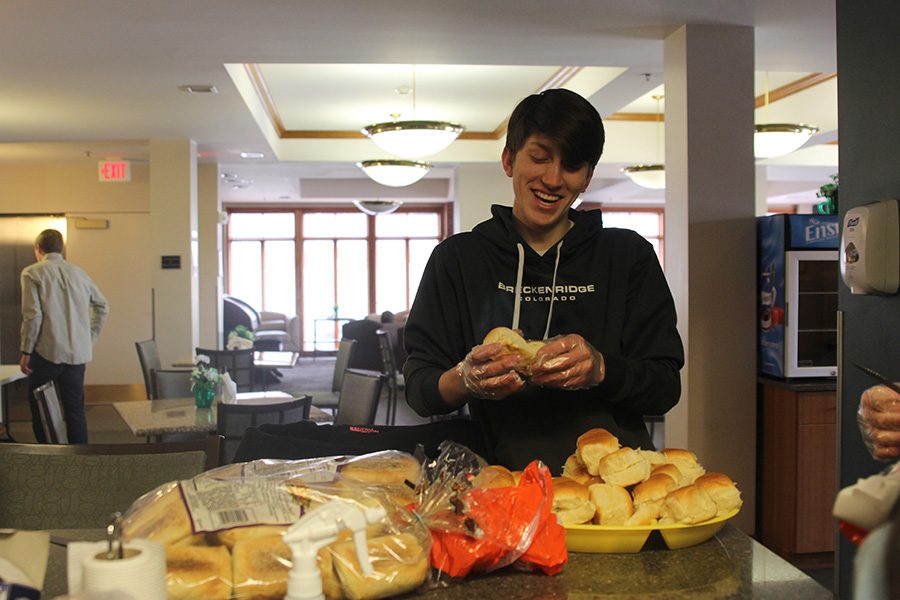 Bailey Wagoner
Members of the Relay for Life committee served lunch to cancer patients and their families staying at the Hope Lodge on Sunday, Feb. 26.
The Hope Lodge gives a place for people receiving cancer treatment to stay if they live out of the area. Senior event co-chair Brady Rolig enjoyed seeing one of the places where money raised goes to.
"We wanted to volunteer at the Hope Lodge because we work so hard raising money for the American Cancer Society, so it is nice to see one of the facilities we are helping fund," Rolig said. "It puts all of our hard work into perspective."
Junior committee member Emma Barge believes getting to interact with real cancer patients helped her understand where funds raised directly goes toward.
"My favorite part was getting to actually see where our money goes to," Barge said. "As much as we hear what kinds of things the money we raise goes to, it was nice to see it in real life."
Rolig feels that even though their actions were simple, they can help others in a big way.
"I liked seeing all of the cancer patients relax and enjoy a nice meal," Rolig said. "When someone is going through something so difficult, little things like a meal can make a huge difference."
Having guests be thankful for their service proved to be most gratifying, according to Barge.
"It was really rewarding to see all of the patients eat the food we brought and having them thank us," Barge said. "They seemed genuinely appreciative and it felt good to let them know that they had people rooting for them to get better."
Due to experiences at the Hope Lodge, Rolig feels even more encouraged to continue working hard on the school's Relay for Life.
"Because I saw that the money we raise provides such a great resource for cancer patients," Rolig said, "it makes me even more excited to raise money and work hard to plan an event that honors all of these strong individuals."