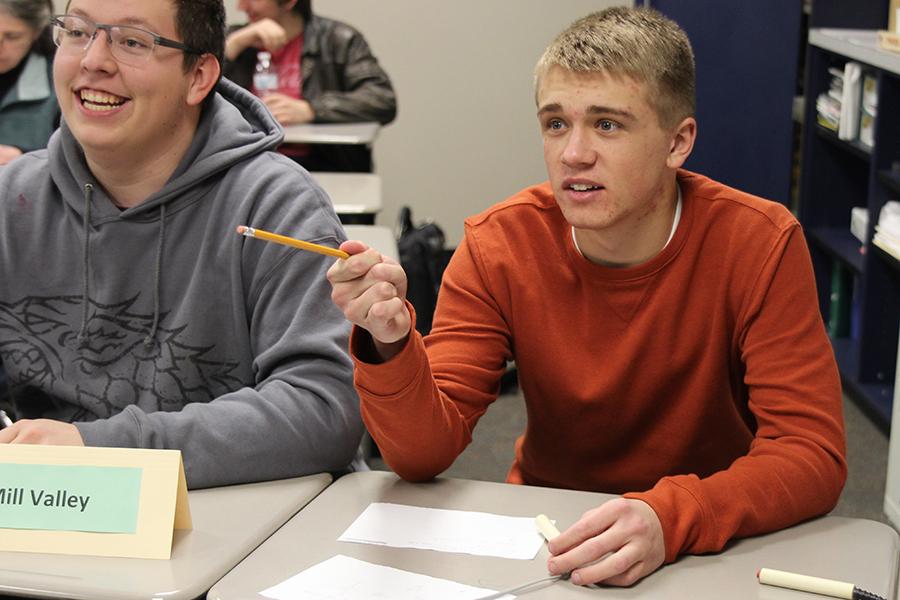 Photo by Hunter Bessey
Quiz Bowl also hosted and won its regional competition on Monday. Feb. 10 and is now going to the state competition in Wichita on Saturday, Feb. 15 to finish the season.
Senior Brooks Danahy, who has participated in Quiz Bowl for four years, is satisfied with the team's performance.
"It's nice to be able to end on a good note," Danahy said. "Going to state and being able to compete on that level [is better than] losing out at regionals and having to end there."
Of the 13 teams competing, Danahy said the toughest competitor was St. James.
"They're a pretty good team," Danahy said. "A lot of the matches that we lose end up being to them, but we ended up beating them this time so that was nice."
In the championship rounds, the team's record was 4-1, allowing them to advance  to state.
"It's pretty cool to be competing against the best people in the state," Danahy said. "I think we will do fairly well."
The Quiz Bowl team also qualified for and competed in Quest, a televised competition, on Saturday, Jan. 25, but lost to Lawrence Free State in the first televised round.
However, the team isn't going to let these results affect their attitude.
"I think we did very well. It was a very close game between us and Lawrence Free State," quiz bowl coach Mary Beth Mattingly said. "We would've loved to go on further in the televised matches. Just to be on television at least once was a great accomplishment."
Being on a televised competition, according to freshman Tom McClain, "was a big wake up call."
"It was really cool. It was different than I expected," McClain said. "It was competitive. There was a host, teleprompters, cameras and all that stuff."
Their performance from Quest will be televised on Sunday, March 9 on the KTWU channel.