QuikTrip Slushie Review
The unusual QuikTrip slushies that are worth trying
Almost everyone has been to QuikTrip to pick up their favorite slushy on a warm summer day. But very few people have stepped outside of their usual flavor of slushy. Here is an honest review of six unusual slushie flavors at QuikTrip.
Orange Cream: Orange Cream was by far the best of these slushies. It tastes just like it's named: orange and cream. The orange tasted like a genuine orange flavor, and not the artificial orange you would expect to be in a slushy. It also had a great slushy consistency and stayed frozen for a long time. 
Blue Vanilla Energy: This slushy has a great mix of blue raspberry and vanilla. It was a little sweet with a hint of sourness. Overall, I liked it and it tasted good, but I would not recommend this as an actual energy drink.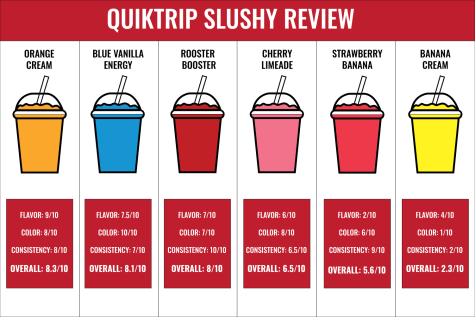 Rooster Booster: The Rooster Booster is another one of QuikTrip's energy drink slushies, and again, I would not recommend it for that purpose. It does, however, have a great slushy consistency and a great taste. It is not super flavorful, but the subtle sour cherry flavor is pleasant. 
Cherry Limeade: This slushy tastes less like a cherry limeade and more like straight lime, resulting in the slushy being pretty sour. Nevertheless, I did not mind the flavor, there was just nothing exceptional about it. The slushy consistency was also mediocre at best.
Strawberry Banana: Despite my love for strawberry banana smoothies, this slushy did not sit right with me. It is weird how the classic sugary slushy taste was mixed with the sweet-tart taste of strawberry banana. I feel like the bottom line is that strawberry-banana should not be turned into a slushy. However, the consistency was easily the best. 
Banana Cream: Similar to strawberry banana, I feel like Banana Cream should not be a slushy flavor. Despite the genuine banana taste this slushy had, it was extremely unappealing. A large part of this could be the fact that this slushy was very melted and was a bright yellow color.
(Visited 5,125 times, 2 visits today)