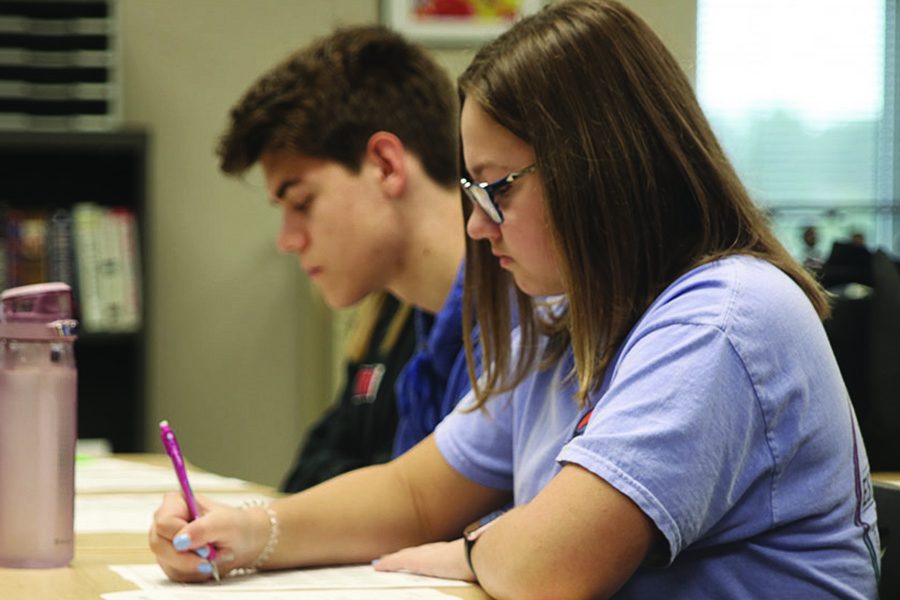 Evan Sherman
The Kansas State Board of Education is discussing a proposition to replace the current Kansas-developed high school assessments with a required ACT and an ACT WorkKey exam for all juniors across the state.
The current assessments – comprised of individual math, language arts and science digital, multiple-choice tests – are constructed by the state of Kansas to assess whether high school sophomores are meeting specific state-developed standards. They would be replaced by a required ACT, a standardized test for college admissions, and an ACT WorkKey, a standardized test measuring foundational workplace skills, both of which are multiple-choice, paper and pencil tests. 
Conducted at the latest meeting of Curriculum Directors on Friday, Oct. 4, an anonymous vote of 94 district representatives found that 48 voiced support for the replacement of state assessments, 29 stood against it and 17 remained undecided. 
The next meeting will take place Tuesday, Oct. 15 for further discussion on the issue. With half of the district representatives advocating for the change and the rest carrying skepticism, there are many advantages and disadvantages for the board to consider before deciding whether or not to make it an official proposal.  
Kansas Commissioner of Education Randy Watson identifies the most vocalized argument for replacing the state assessments – its streamlining effect on standardized testing.
"We could cut down the number of testing if we had students take the ACT and ACT WorkKey," Watson said. "Well over 75% of [Kansas students] already take [the ACT] on a volunteer basis, so why wouldn't we just cut down the number of tests that kids have to take and use [the ACT]?" 
Former ACT Prep teacher Peter Shull believes the proposal would not only benefit students, but would benefit the entire state by improving score accuracy and saving resources. 
"Students would be more invested in the [ACT] because students recognize that the ACT is a test that gets them into college, whereas the general state test didn't mean anything to students. I think a lot of students would work harder, and I think a lot of outcomes would be better," Shull said. "I also think the state of Kansas would save a lot of money because then they wouldn't be making and grading their own test anymore."
Contrary to this point, assistant principal Jennifer Smith describes how requiring students to take the ACT would take away from students who currently benefit from the Kansas-developed assessments created to look at specific state grade-level education goals. 
To identify this disparity, Smith explains the thought process behind the current state assessments in comparison to the ACT.
"Finding an [assessment] that will give you information to see how [the student] is specifically doing at [their] grade level – which is what our state assessment does – is helpful because it allows you to evaluate your programming, your curriculum and your individual buildings," Smith said. "The ACT doesn't allow you to do that because of how it's designed and what the intent of it is."
While the ACT would benefit those seeking post-secondary education, Smith questions how the ACT would serve students taking alternative routes.
"When you look at our school, the majority of our students are going to be college bound or are college bound. I think [this proposal] is something that they definitely will buy into, but the challenges is [that] you've got to look at every district in the state," Smith said. "We do still have a large population that does go into the military … or those that are going to a trade school … and is [the ACT] something they necessarily need to take?"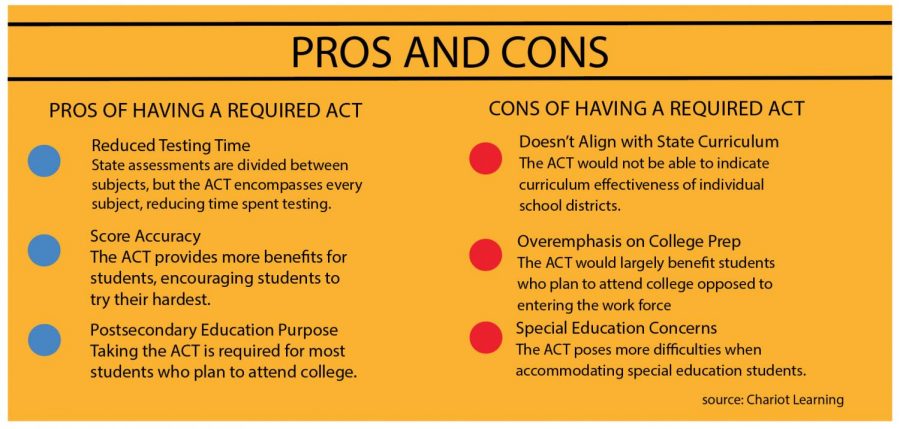 However, senior Nathan Greenfield disagrees with the assumption that the current exams fulfill their purpose because he believes current state tests are ineffective at testing aptitude. 
"The current state assessments seem to do more harm than good," Greenfield said. "They take away class time that could be used for teaching and aren't enjoyable for the students or the teachers. I know many of my peers approach it with an 'it doesn't matter' attitude and so they don't try their hardest."
While senior Ashley Baranczuk agrees that the ACT is superior to the state assessments, she notes its negative effect on students. 
"I think [the ACT] is a better representation of our education level, but at the same time I think some students stress over it too much," Baranczuk said. "Colleges care about it way too much and that stresses out high school students."
On the other hand, Shull believes the ACT would actually reduce an aspect of stress and improve performance. 
"I think that some of the student frustration toward the state tests in the past would be relieved because students would know that the test they were taking mattered and that it could get them places," Shull said. "I think that our ACT scores in the school would go up because I think that more of the teachers would spend more time working toward ACT success."
Baranczuk notes a difference between the two exams that would drastically change the environment prior to testing. 
"I think it's a lot easier to prepare for the ACT," Baranczuk said. "There are a lot more resources out there [for the ACT], and you can't really prepare for the state tests."