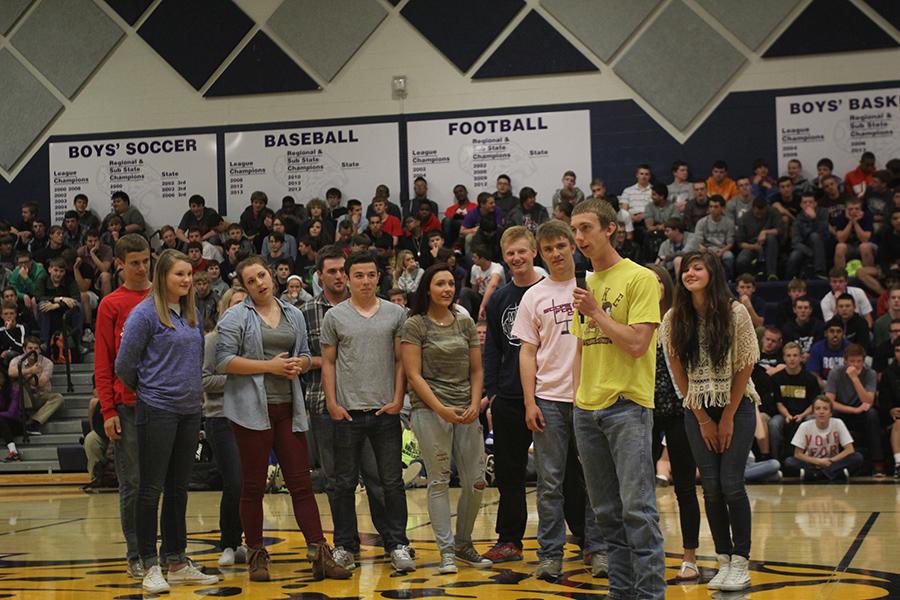 Photo by Kat Anglemeyer
After weeks of planning and organizing, prom is right around the corner. This year's dance will be held on Saturday, May 3 at the Madrid Theatre, located at 3810 Main St. Kansas City, Missouri. The dance will begin at 7 p.m. and end at 11 p.m.. Students will need to arrive at the dance by 9 p.m. in order to be admitted.
After prom will be held at Dave & Buster's and will begin at 12 a.m. Students may not leave after prom until after 2:30 a.m.
Candidates for this year's prom king and queen, listed below, were announced Thursday, April 17. The king and queen will be announced at the dance.
Prom king candidates:
Senior Connor Armstrong
Senior Jason Biesma
Senior Coltyn Gatton
Senior Aaron Geise
Senior Jack Lopez
Senior Alex Rounds
Senior Adam Willoughby
Prom queen candidates:
Senior Krista Brewer
Senior Carly Eaton
Senior Riley Gerber
Senior Erin Hay
Senior Mary McDaneld
Senior Cassy Smith
Senior Haley Woods
The theme of the dance, determined by the prom committee, is inspired by the Great Gatsby.
"[As a committee], we thought [the Great Gatsby] would be an awesome theme because it was such a fun movie and time period," prom committee member Hannah Hilton said.
The committee has been preparing for the dance for weeks and meeting for work nights three times a week to make decorations and other preparations.
"We don't really have anything specific that we are most excited for about the dance, however we are really excited about the venue and that it'll be much larger than last year," Hilton said. "We just hope everyone has a great time."