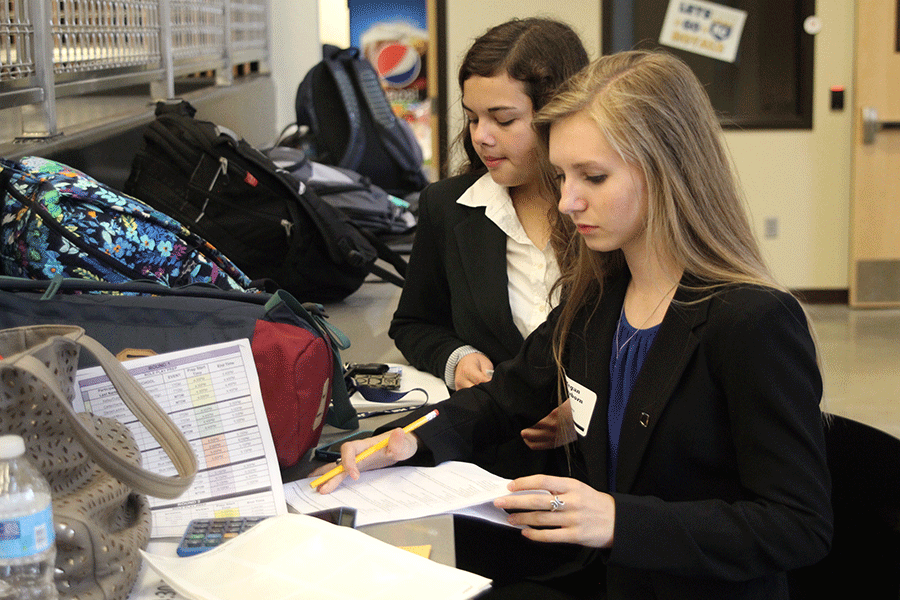 Justin Curto
Update: Tuesday, Nov. 3 at 4:39 p.m.
DECA received results from last week's competition at Lansing High School on Monday, Nov. 2. The following students placed:
Seniors Megan Feuerborn and Madison Remijio: tied for second in human resources management
Senior Danielle Holt: third in retail merchandising
Senior Ben Gillig: second in sports and entertainment marketing
Seniors Siddarth Jambunathan and Derek Meeks: tied for third in sports and entertainment marketing
Senior Nadia Suhail: third in business finance
Junior Ethan Hansen: second in personal finance literacy
Original Story:
DECA competed in its first meet of the season at Lansing High School on Tuesday, Oct. 27.
Twenty-three members of the DECA team competed in nine events at the meet. Of those, 21 were new members, as the team is primarily composed of students in Advanced Marketing. According to DECA adviser Dianna Heffernon-Meyers, results will be released in the next few days due to an error in calculations.
The team was more prepared for the first meet this year compared to last year, when DECA was new to the school, Heffernon-Meyers said.
"We've actually kind of gone through some mini practice competitions, step by step, so that they actually knew what to expect," Heffernon-Meyers said. "We didn't do that last year, because none of us really knew what to expect. [So], I think they were more confident going in."
Practicing before the meet helped, senior Derek Meeks said, especially since it was his first time competing.
"I was kind of nervous coming into the first competition because it was pretty difficult and kind of intimidating at first," Meeks said. "We did practice role-plays and tests in here [and] even us firstcomers who had never gone to a competition before were a little bit less intimidated by the whole thing because we were better prepared."
At this first meet, Heffernon-Meyers was particularly impressed by the team's demeanor.
They were professionally dressed, they had professional behavior … they knew exactly what they were supposed to do," Heffernon-Meyers said. "I thought we rocked."
Meeks, who competed in sports and entertainment marketing, said he was content with his performance at this meet and hopes to place at future ones.
"I thought I did pretty well for it being the first meet," Meeks said. "I'm super competitive, so of course I want to medal at as many meets as I can."
Heffernon-Meyers hopes team members will specifically work toward scoring better on the testing portion at meets in the future, along with recognizing and fixing individual errors.
"One of our biggest goals is to increase our test scores," Heffernon-Meyers said. "After this first competition, they look at their results and they'll get a baseline, and so then each person has their own individual goals for improvements … kind of dependent on what their strengths and weaknesses [are]."
This is a developing story. Check back for updates.