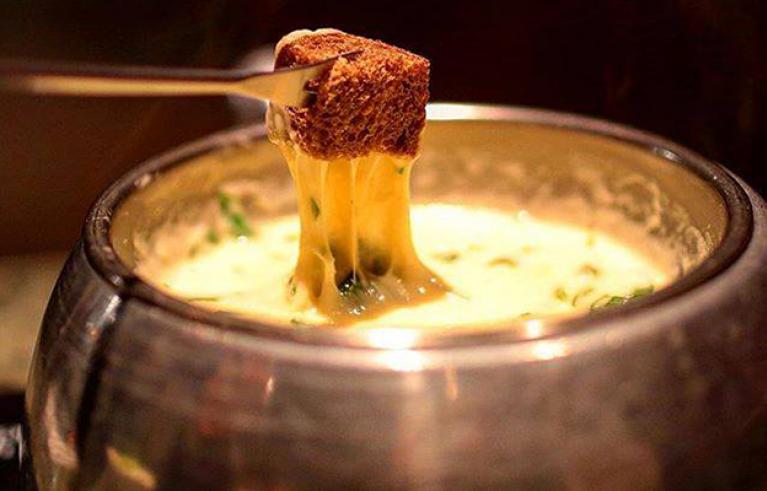 kcrestaurantweek.com
Fondue is a traditional European food that was introduced to the United States in the 1960's. Fondue was first invented when villagers' bread would become stale in the winter months. The villagers found that if they heated cheese, it could soften the stale bread.
Nowadays, many things other than bread are dipped into the melted cheese, such as broccoli, apples, carrots and tomatoes. 
There is also chocolate fondue, which is ideal for dipping desserts like fruits and candies. 
To celebrate National Fun with Fondue Month, as well as my first time trying fondue, I visited The Melting Pot, located in the Country Club Plaza.
For my fondue experience, I tried both cheese and chocolate fondue. I picked the Quattro Formaggio for the melted cheese fondue. It was delicious and went well with all of the breads, fruits, and vegetables provided, but I particularly enjoyed how the cheese complemented the bread.
For the chocolate fondue I went with the S'mores Fondue. It was an incredible experience even ignoring the accompaniments, which included pound cake, brownies, strawberries, bananas, pineapple. The S'more fondue even included lighting the fondue on fire and adding in bits of graham cracker to add to the S'mores presentation.
To dip into the chocolate fondue there were pieces of pound cake, brownies, strawberries, bananas, pineapple, Rice Krispies Treats, and chocolate covered oreos.
 I would definitely recommend The Melting Pot for anyone wanting to try fondue, no matter if it is National Fun with Fondue Month or not. The service was attentive and the servers were happy to answer any questions you may have. For the pricing of fondue it depends on the amount of courses you want; one, two, three, or four courses. The full experience includes a cheese, salad, entrée, and dessert. For one person, the full experience would cost $74.95-89.95.
Although it's a novel holiday, I would definitely recommend celebrating National Fun with Fondue Month. You can do it by either going out or getting creative and making it yourself. Even though each way can be costly, the holiday is not one to miss.