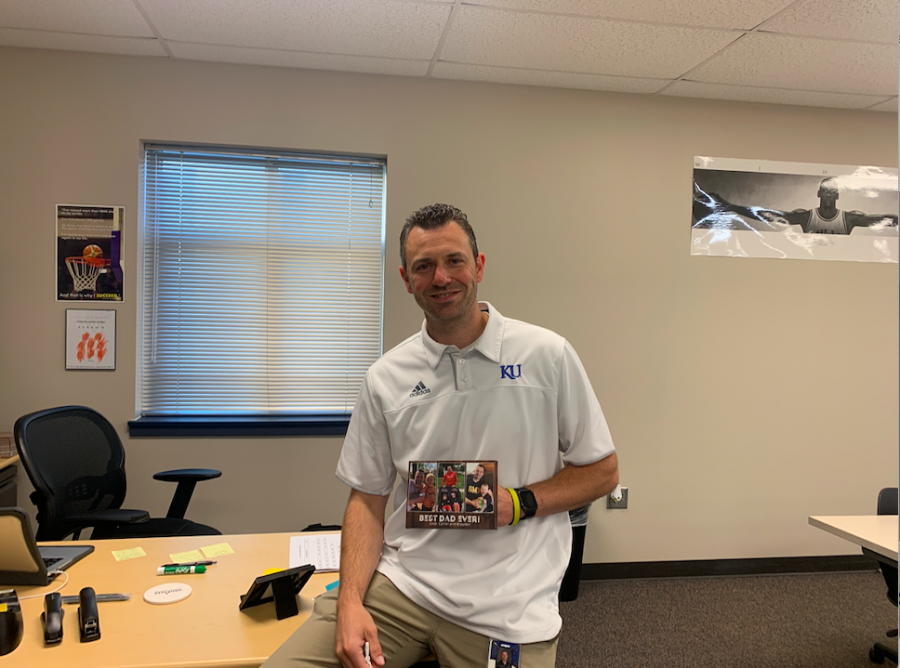 Liz Coenen
Mill Valley News: What is something on your desk or in your classroom that has a special meaning to you?
Head girls basketball coach Adam Runyan: I have this picture of me and my two boys, they're both little guys. It says 'Best Dad Ever' which I don't know if I'm the best dad ever, but my sons are really important to me, so having that picture on my desk and being able to see them every day, and talking to them throughout the day, it's really cool to have that there, just glance at them and I'm just really proud of them, so that's meaningful.
MVN: What is your background?
AR: My first degree is a career in journalism actually. I worked in TV for five years for a CBS affiliate TV station; I was a sports anchor. I got out of that and got into education, and I've been teaching and coaching for fourteen years. There were some cool parts to [being a sports anchor], but there were also some not cool parts to it. I enjoy coaching and teaching a lot more.
MVN:  Why did you want to get into education, what was your motive for that?
AR: Teaching, in general, has always been important to me. Sometimes I feel like people look at education as something they don't enjoy, you hear from students a lot, 'I don't like school' or 'I don't like to go to school,' but for setting up the future world, I know that sounds cliche, but educating people is incredibly important. It's important to me that I can help play an active role in helping make our society better; I think education drastically helps that. Now that I have kids, it's even more important to me because I want their world to be set up in a good way, where they can receive a good education, and have a good life.
MVN: What are some goals you have for the school?
AR:  [The girls basketball program] has this kind of theme, or brand for our team this year which is, 'reps remove doubt', and it's the idea that repetition is something that removes doubt from your mind, that you can be great at whatever you're aiming for. That's really something that our team really focused on this summer as we worked out. That's something in the classroom too that I think is really important, the idea of repetition of something so that you can build confidence in doing it. It removes doubt from your mind. 
MVN: What are some of your personal goals?
AR: I am always trying to better myself so that I can be a good husband, a good dad, a good coach and a good teacher, as well as finding ways to better myself, physically. I know that sounds dumb, but I think physical fitness is really important. I think that it helps with your mental aptitude. I listen to a lot of podcasts and things like that to stay sharp and learn about new things that are going on around me.
MVN: What is your favorite thing about the school so far? 
AR: I'd say so far honestly, just the students and classes. I think the students in my classes have been really positive. I appreciate the kind of energy and the demeanor that they have. [I like] being able to be in the classroom and have students that are respectful, listening and engaged.
MVN: What else would you like people to know? 
AR: The biggest thing I would say is, I'm going to be involved here in Mill Valley, and I encourage all students to be involved in different things in Mill Valley. Don't just sit on the sidelines, get out and be involved.