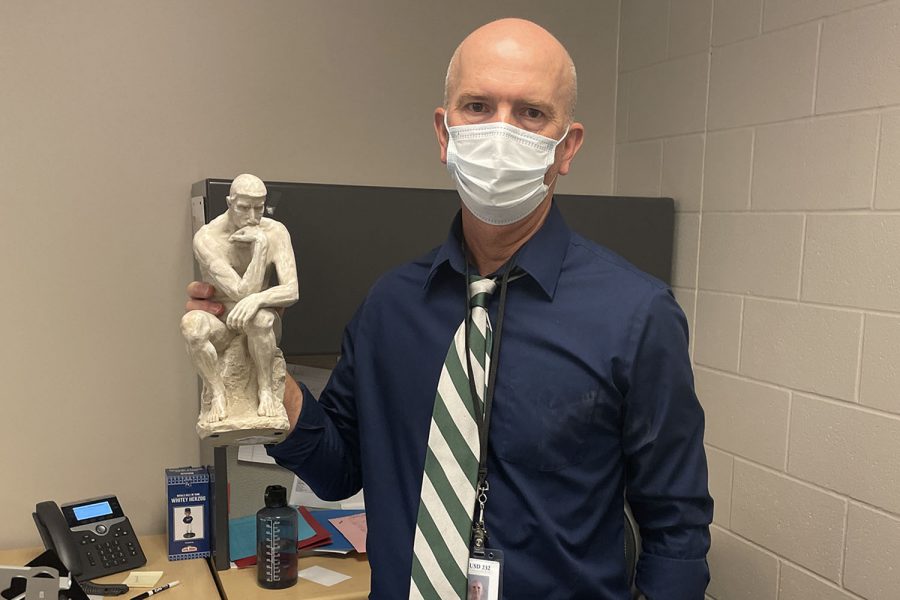 New girls and boys soccer coach moves to Mill Valley after 11 years at Blue Valley Southwest
Jason Pendleton's goal is to shape the boys and girls soccer program in an effort to take the state title
Mill Valley News: Could you describe something on your desk or in your classroom that has a special meaning to you?
Social studies teacher Jason Pendleton: If you look around [my classroom] I have quite a collection of bobbleheads, and they range from cultural, social, like superheroes and whatnot, to historical figures, so bobbleheads are a fun way of holding on to historical characteristics. 
MVN: What is your background?
JP: I taught at Blue Valley Southwest for 11 years. 
MVN: What college did you go to? 
JP: I have a master's degree from Emporia State and my undergraduate degree's from McPherson College.
MVN: And are you happy you chose to teach?
JP: I am, yeah. It's been great. I've met some phenomenal people, both students and teachers along the way, and felt like I've made at least some differences at some point.
MVN: What are some of your goals for the school?
JP: [I want] to build positive relationships with kids. I live in the community near Garrett Park, so it's important for me to try to contribute positively to this community. 
MVN: What do you do in your free time?
JP: I don't have a lot of free time. I'm the head soccer coach, when I'm not coaching soccer here, I'm the executive director for KC Fusion so that pretty much dominates all my time. 
MVN:  What were your first impressions of the school?
JP: We've lived in this community for a long time, going on 11 years, and I'm impressed with its commitment to facilities, and its willingness to always try and provide the best resources for the students. 
MVN: What events are you looking forward to going to?
JP: Since I'm so close to the school in terms of where I live, I look forward to as many different types of athletic, musical and thespian-type events as I can. I think that's an important part of being part of the school community.  
(Visited 95 times, 1 visits today)