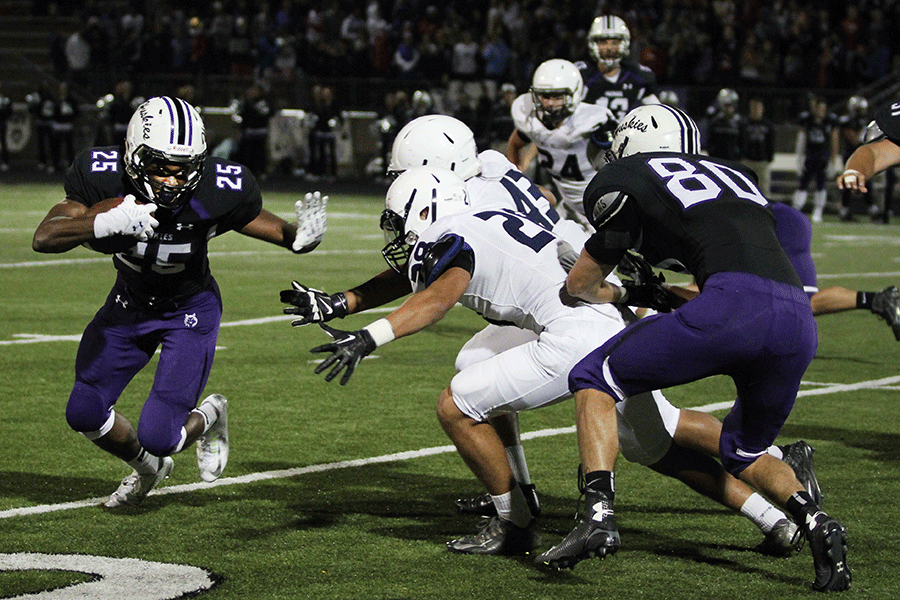 Photo by Karissa Schmidt
After 15 years and 85 Kaw Valley League championships between 18 sports, the school officially accepted its offer to the Eastern Kansas League on Tuesday, Jan. 13.
After principal Tobie Waldeck and activities director David Ewers sent a letter of interest, the EKL made a formal invitation on Thursday, Nov. 13. The Jaguars will join Bishop Miege, Blue Valley, Blue Valley North, Blue Valley Northwest, Blue Valley Southwest, Blue Valley West, Gardner-Edgerton and St. Thomas Aquinas beginning in the 2016-17 school year.  St. James Academy will also join the EKL in 2016.
According to Ewers, the school has been looking to move out of the KVL for several years, primarily due to its enrollment consistently being significantly larger than any other KVL school. Mill Valley has the largest student enrollment in the KVL with 1,287 students, and has held this status for the past three years. According to Ewers, along with the largest enrollment, the school also has the highest number of participants in all activities including music, drama and sports.
As the school has been looking for a change like this for multiple years, the elaborate process of leaving the KVL and being invited to the EKL has made it more challenging for this transition to be implemented.
"We can't just go and join a league. We have to be invited. The EKL did formally invite us, and I think that is a point that doesn't need to be missed," Ewers said. "Leagues typically like to have even numbers of schools — like how both us and St. James got invited to the EKL so they could go from eight to 10. And for scheduling purposes in athletics it makes it a lot easier."
Accepting the invitation to the EKL was an easy decision for the school as the benefits outweighed the possible challenges.
"It's a good fit for our school," head football coach Joel Applebee said. "Where we're at, the size of our school and the likeness that we have with all the other schools that are in the EKL, it's just going to be a good fit for us."
Ewers agrees and said that it will lead to more opportunity for students.
"Our coaches and activity sponsors are really behind it," Ewers said. "Changing to a new league opens more doors for people, it creates more challenges too, but it does create some more opportunities for our kids and that's what we're most excited about."
Challenges are expected as the school will join the EKL, as in the past eight years, Mill Valley athletic teams have been eliminated from post season play by EKL teams 37 times. Girls soccer player Haley Freeman is unsure of what to expect in a more competitive league.
"We could get our butts kicked," Freeman said. "There's no telling what the competition will be like our first year because it's going to be brand new. [Current EKL teams are] used to that competition and we're not, so it's going to be harder to adapt."
However, the soccer program is not the only team anticipating adversity. The track and field team has, in total, won 23 KVL championship titles with the girls team earning 14 and the boys team nine. Head boys track coach Chris Dunback said maintaining this reputation will be a challenge.
"[We will have] tougher overall schedules," Dunback said. "[I] hope the public and the kids understand that. Going undefeated in the KVL was hard. Going undefeated in the EKL will be extremely hard."
Competing in the EKL will bring many challenges, but Ewers looks forward to welcoming this change.
"Our goal is to not shy away from the challenge but to embrace it, and we want to work to be as competitive as possible as quickly as possible," Ewers said. "We understand that every night is going to be very challenging in some of our activities but … we're looking forward to it."
While Ewers is excited about the future of the athletic program, senior track member Holly Webb will not have the opportunity to participate in events when the school is a member of the EKL. Webb is glad to be ending her high school athletic career in the KVL.
"I'm happy that I get to end my senior year on a high note. It's a good and bad thing. I can finish with 15 KVL titles [won by the team] which is a good thing instead of a sad memory," Webb said.
Despite the anticipated challenges, Applebee will continue to focus on improving his team rather than focusing on their competition.
"No matter who we're playing, we worry about us more than our opponent and make sure we're doing the right things as far as preparing ourselves to win. I think that will be a little bit of a change, but our approach to things football wise, I don't think that will change at all," Applebee said.
Freeman looks forward to joining the EKL because of the potential benefits it could bring.
"We will be able to improve as a whole . it's going to be a lot better competition so we're going to grow on and off the field," Freeman said. "We'll have to work on speed of play and just aggressiveness and how to play at that level."
Overall, various coaches and administrators felt it was time for a change, and joining the EKL was the best decision for the future of the athletic program.
"I just feel like it was time that we do something and I think all the coaches agreed with that," Applebee said. "We had some real healthy debate, but in the end we all agreed that this is the right time and this is the right decision."