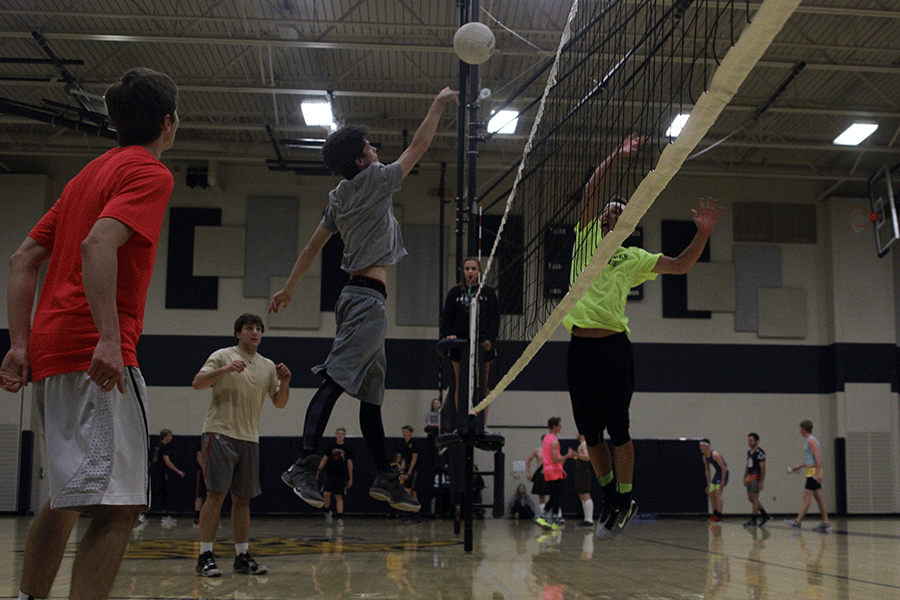 Photo by Jena Smith
A total of 12 volleyball teams, made up of 75 students, gathered in the gym to participate in the Kick Butts Day volleyball tournament that promotes the prevention of tobacco use among teenagers on Wednesday, March 25.
Kick Butts Day has been an annual event for 10 years and is sponsored by health teacher Amy McClure. McClure sponsors this event because she wants to promote the prevention of tobacco due to personal experiences.
"I sponsor it because my grandpa died of pancreatic cancer. He got cancer because he started smoking when he was very young," McClure said. "It's important for teens to think about tobacco prevention and why it's important to be tobacco free."
Sophomore Garrison Fangman, a member of the winning team, Cigs Suck believes the tournament is a good way to bring awareness to tobacco use.
"I think it's a great event because it encourages kids to get out there and be active and it promotes healthy habits and not smoking cigarettes," Fangman said. "I think it's a great way to promote [healthy habits] and raise money."
Although senior Austin Dyche's team, Busta Net, didn't win the tournament, he said playing in the tournament was a lot of fun.
"My favorite part has been participating with all my teammates," Dyche said. "It's a lot of fun,all the outfits and just being a team in general."
Sophomore Brady Rolig, a member of Cigs Suck, said the event was a good way to bring the students together.
"I think it's a fun school activity that a lot of people can get involved with and do something good for the community as well," Rolig said. "All the teams were out there to just have fun."
McClure said her favorite part about the event was seeing all of the students get excited for about the cause behind Kick Butts Day.
"The [students] look forward to it and they do have fun," McClure said. "It's fun watching the kids and the excitement they have for tobacco prevention or being tobacco free and taking pride in that fact."
Junior Derek Meeks was a part of Dew Crew Volleyball (DCVB) and although DCVB didn't win the tournament with a second place finish, Meeks said everyone was glad to be there to support the cause.
"I really enjoyed my experience," Meeks said. "The greatest part about this is that we're here for a greater cause than ourselves—to kick butts and to kick tobacco."