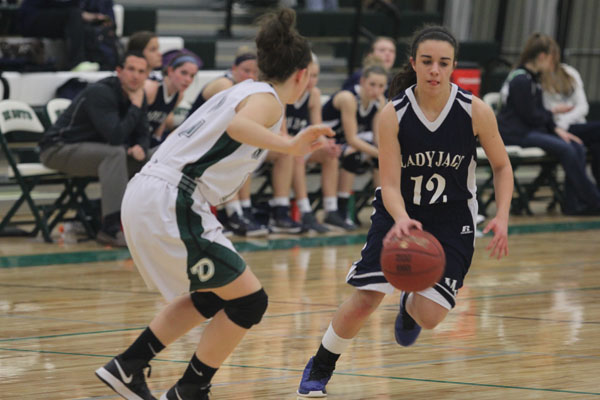 Playing in De Soto High School's new gym, the JV girls basketball team competed against the Wildcats for the first time since the team left the Kaw Valley League. The Jaguars won 39-35 on Wednesday, Jan. 23, despite not playing to their full potential.
"Last night wasn't our best night," sophomore point guard Savannah Rudicel said. "We played a little flat. We just didn't seem to be on the same page."
However, Rudicel also enjoys playing against an inter-district team.
"I liked playing [De Soto] because you know quite a few of the girls on the other team," Rudicel said. "I think it would be a good idea to do a pre-season scrimmage next season instead of just a JV game … I think playing De Soto on a regular basis would be a game that people would look forward to for the varsity teams as well."
Sophomore center Sadie Noyes agrees with Rudicel.
"It wasn't our best game but a win is a win," Noyes said. "It was cool to see friends who we went to middle school with, and their new gym is really nice."
Rudicel appreciated the extra competition playing an inter-district team added, but she would like to see more fans at the JV games, the next of which is at home on Tuesday, Jan. 29 at 4 p.m. against Piper High School.
"Our student fans are pretty low at most games," Rudicel said. "But overall, our team has improved quite a bit. Our team chemistry has really gotten better and we've really meshed as a team. Practicing against a team as good as our varsity has helped us get better, too."