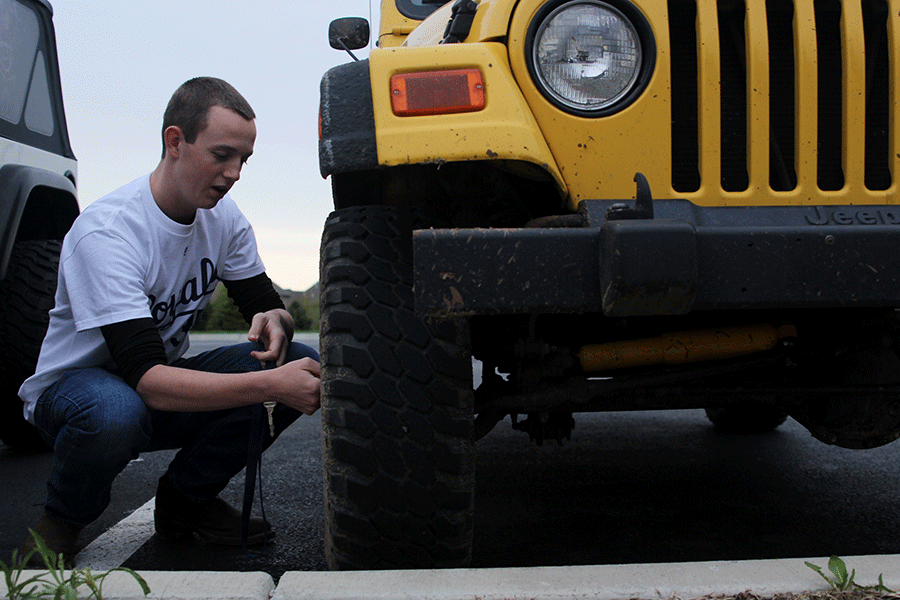 Photo by Jena Smith
Anyone who has driven by the activities center parking lot this school year has more than likely noticed the long line of Jeep Wranglers parked side by side. Though it may at first seem like this is for looks, the driver's friendship actually began prior to parking together and has since been strengthened through various activities having to do with their cars.
The group, which includes juniors Katie Burke, Mitch Cowan, Cole Griggs, Spencer Hamilton, Zac Kornis, Logan Schmidt and Rienna Schriner, has parked together for the majority of this school year, originally as a joke.
"We thought it would be funny [to all park next to each other]. We're really good friends," Schriner said. "I spend a lot of time with … them."
Junior Mitch Cowan said the bond the group has is strong. "I'd say [it's brought us closer], there's more stuff for us to do when we hang out," Cowan said. "It's something we can always get together and do."
Although their friendship existed prior to owning Jeeps, parking together and bonding over their cars has brought the group closer. Together, they spend time outside of school taking full advantage of their Jeeps' unique features.
"We go off-roading together a lot. It's nice to go with friends because, if you get stuck, there's someone there to pull you out," Kornis said. "It's kind of a safety thing. It also makes it more fun to go with other people."
Besides off-roading together, the students work on maintaining their cars and enhancing the structures with accessories they purchase and install themselves. These include bumpers, hood louvers and soft tops.
"To put something new on the Jeep, you have to do a lot of research," Kornis said. "Having a Jeep, [I've learned a lot about cars], and it's definitely fun to learn."
In addition to parking together at school, each student also makes it a goal to park next to other Jeeps wherever they go.
"It's a community," Kornis said. "No matter where you are, if you find someone who has a Jeep, you can easily start talking to them about it. They're fun people, too."
While not always fuel or cost efficient, Kornis said driving a Jeep is about the experience, adding that Jeeps are about the "smiles per gallon, not miles per gallon."
Schriner agrees that owning a Jeep makes driving a special experience.
"The feeling you get when you drive it is just great," Schriner said. "I can't describe it, it's just such a good feeling, especially when it's really nice outside and I can take off the front panels and the air makes it really open. It's a great feeling."