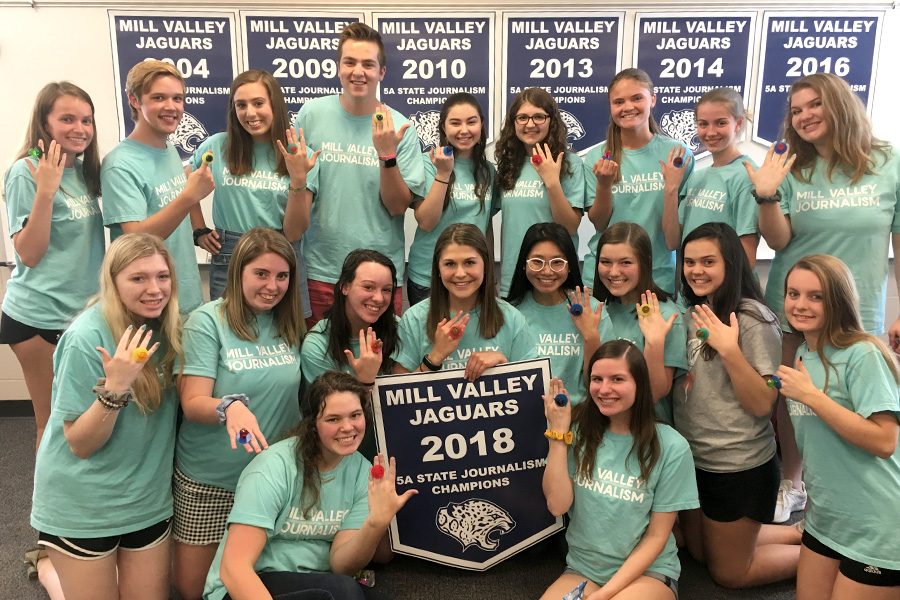 submitted by Kathy Habiger
The journalism state team took first in the 5A Sweepstakes at the Kansas Scholastic Press Association state contest on Saturday, May 5, winning its seventh state title in 15 years.
Competing against nine other 5A Kansas high schools, Mill Valley took first by three points, defeating 2017 state champion Salina Central High School.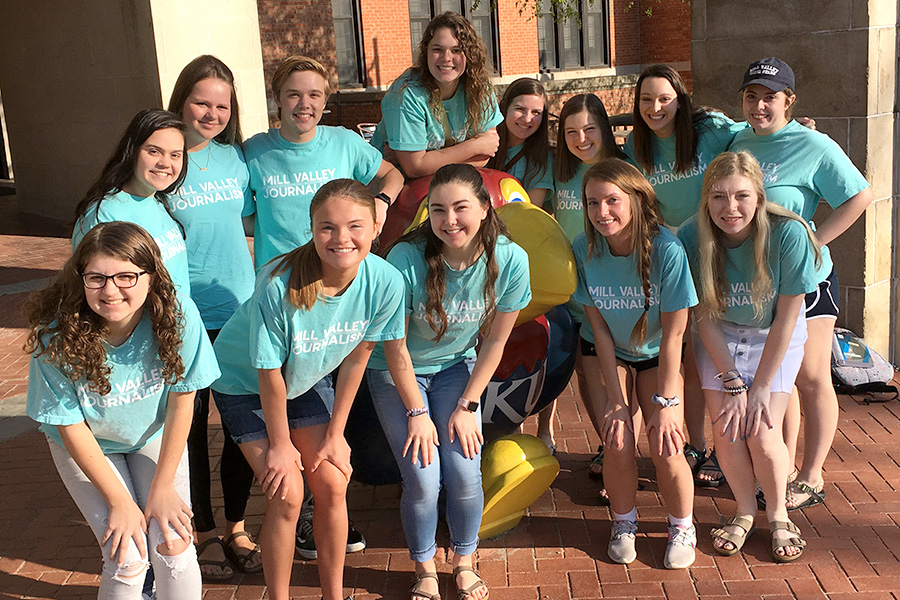 The 20 students on the team competed in 18 different categories, including contests in design, writing and photography. They submitted digital submissions beforehand, like news page designs or yearbook spread designs, and competed in on-site contests, like copy editing and caption writing. Overall, the team took home 16 individual placings.
For junior JAG student life editor Libby Mullican, who took first in photo gallery and received honorable mentions in academics photography and yearbook spread design, winning state was "an amazing feeling."
"Once all of the digital submissions were accounted for, we were one point behind Salina Central," Mullican said. "As results from the on-site competitions were posted [on] Twitter, I became anxious. Once I saw that we had the most points, I was overfilled with joy. I'm glad that all of our hard work paid off."
Mullican said she attributes the win to the hard work and individuality of students on the state team.
"We were able to pull out a win this year because each journalist brought something different to the table," Mullican said. "Together, all of our skills created the perfect combination that allowed us to win."
After falling to Salina Central by only one point in the 2017 state contest, senior JagWire editor-in-chief Victoria Wright, who took second in news page design and second in multimedia storytelling (along with seniors Emma Barge, Morgan Gurwell and Tricia Drumm), said this year's state win was even more rewarding.
"It's hard to find the words to describe how winning state feels," Wright said. "To come back and win this year is amazing; I'm just super proud of this program and everything we've accomplished. I feel like us seniors are leaving our mark on this school and state is just one of the ways we've done so."
Mullican appreciates the opportunity for creativity that state contest presents, and said her favorite part about the competition is being able to "freely interpret" each contest.
"In yearbook, we are encouraged to think outside of the box, but also have our designs be cohesive to keep the book consistent," Mullican said. "The yearbook design contest pushed me to make a dynamic and striking design that I might not have done for our school's book."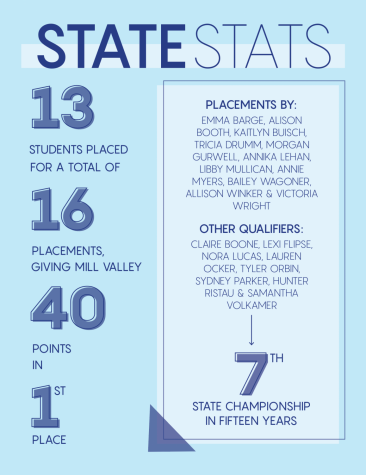 Wright agrees, and said she liked being able to "bring in elements we normally wouldn't use in our paper."
Additionally, Wright said she's glad to see her peers in journalism receive the recognition she believes they deserve.
"My closest friends are in journalism and were competing and to see them do so well makes me so proud," Wright said. "I know they're all so capable of doing amazing things, so I'm super happy they were able to receive recognition for how awesome they are."
Ultimately, Mullican said that the well-roundedness of the team was the deciding factor in helping it secure its eighth state title.
"In the past, there have been very talented journalists that have competed, but I'm not sure if all the bases were covered," Mullican said. "This year, we had a good mix of people that were able to be successful in their selected competitions."