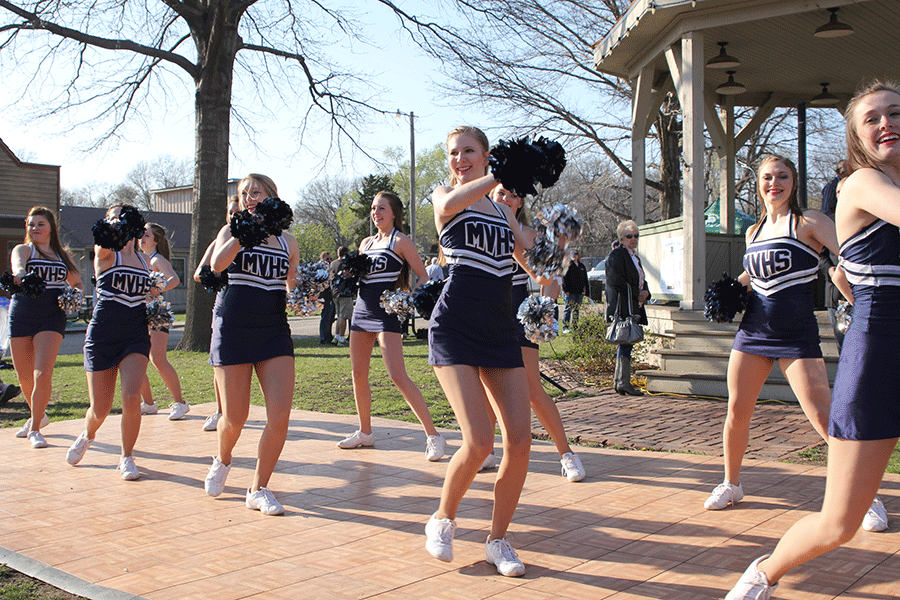 Photo by Clayton Kistner
The Shawnee Rotary Club and Department of Parks and Recreation hosted the first Taste of Shawnee event at Old Shawnee Town on Saturday, April 4. The entry fee of $5 guarantees five taste test tickets for use at any of 20 restaurants who set up taste-testing kiosks, and attendees could purchase additional tickets for $1 each. In addition to the food, there were five performers, two mascots and ambulance tours.
JagWire photographer Clayton Kistner and I (Katherine White) attended to review as many vendors as we possibly could in the 4 hours that it was open. Below are reviews for the 14 vendors we tried.
(Vendors not reviewed: The Funnel Cake Truck, Chick Hooven Swine BBQ Truck, Papa Murphy's Take and Bake, Sombrero's Mexican Cantina, Jimmy John's, Dunkin' Donuts)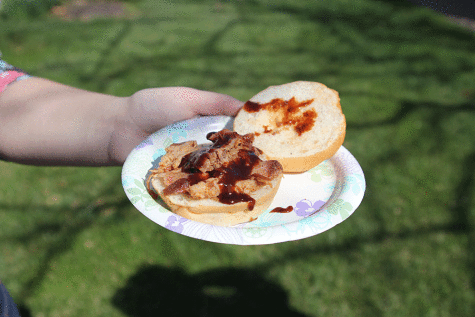 Yardhogs BBQ — pulled pork sandwich
Katherine's rating: 7/10
Clayton's rating: 7/10
While this sandwich didn't excel in any particular way, it offered a hardy sampling of well-cooked pulled pork and savory sauce. These sandwiches were a good start to our culinary journey.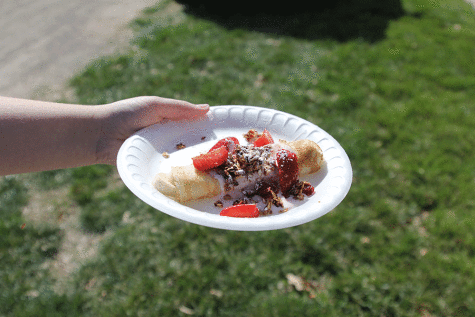 First Watch — strawberry banana crepe
Katherine's rating: 6/10
Clayton's rating: 4/10
I was disappointed at the lack of chocolate, but overall, this wasn't too bad. Clayton, however, found the flavor profile weak and underdeveloped (though it was very pretty).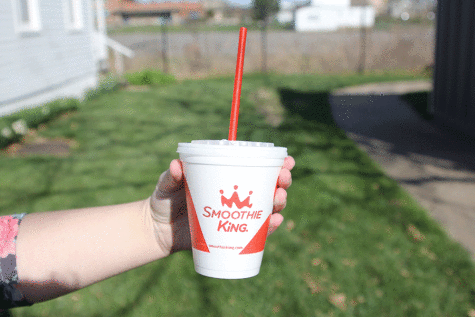 Smoothie King — island impact smoothie
Katherine's rating: 8/10
Clayton's rating: 7/10
I usually don't like smoothies, but this mix of pineapple and mango pleasantly surprised me. Clayton described the flavor as "refreshing."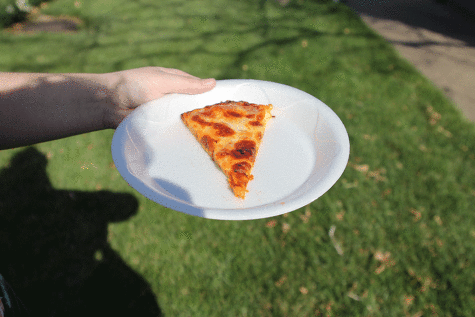 Sutera's Pizza at Shawnee Crossing — slice of cheese pizza
Katherine's rating: 3/10
Clayton's rating: 5/10
Too much grease and a bland cheese flavor brought my rating down — it tasted too much like a microwave pizza to me. Clayton's two cents: "Though I'm usually a fan of thin crust pizza, it was greasy and cold."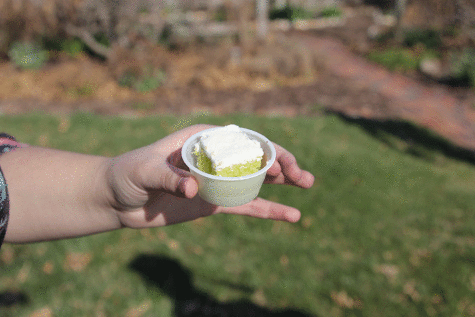 Iced Art Cakes — key lime, red velvet, guava and white cake pieces (only key lime pictured)
Katherine's rating (red velvet, guava, white): 10/10
Clayton's rating (key lime, guava, white): 10/10
This was, by far, the best vendor. Not only was the cake fluffy and the frosting a delicious mix of flavors, Iced Art Cakes had a pretty and professional stand and stayed the entire 4 hours. Many vendors left early because they ran out of food, but they were prepared with many samples from five different flavors. All four flavors we tried were a solid 10.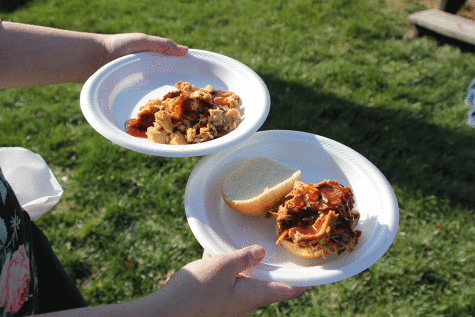 Taylor Made Catering — pulled pork sandwich and barbecue smoked chicken
Katherine's rating (barbecue smoked chicken): 8/10
Clayton's rating (pulled pork sandwich): 9/10
Clayton's sandwich was moist and juicy, covered in spicy sauce. "I want to take a bath in it," he said. My smoked chicken was well-cooked, well-seasoned and the sauce fit it well.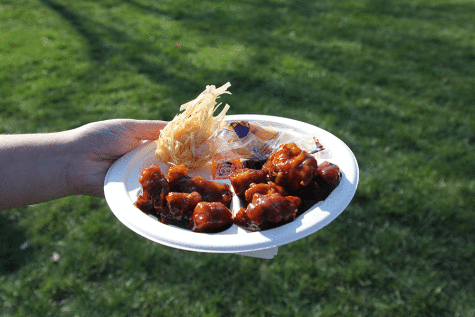 Pine & Bamboo Garden – General Tso's chicken and fried shrimp ball
Katherine's rating: 6/10
Clayton's rating: 6/10
The saddest part about this sample is that it could've been much higher if it weren't for the circumstances. At the beginning of the event, Pine & Bamboo Garden also had lo mien noodles and crab rangoon, two of my favorite Chinese foods. By the time we got around to actually try it, those ran out and the food was cold. The sauce was very savory, though. While I did not eat the fried shrimp ball because seafood is not something I enjoy, Clayton genuinely enjoyed the combination of crunchy fried noodles and soft shrimp.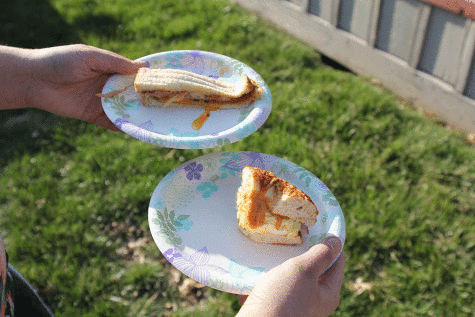 Country Club Cafe — rollover and chipotle griller
Katherine's rating (rollover) : 8/10
Clayton's rating (chipotle griller): 8/10
"While I'm not an egg salad fan, I loved the fresh asiago bagel and the spicy sauce." – Katherine, about the rollover
"I thought it was very good conferring I usually don't enjoy peppers and massive amounts of cheese, but it seems like something I'd grab after a hard day of school." – Clayton, about the chipotle griller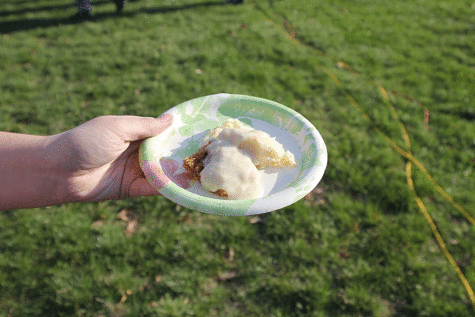 Pegah's — country fried steak with mashed potatoes and gravy
Katherine's rating: 8/10
Clayton's rating: 8/10
Clayton compared the country fried steak to the one served at the school's cafeteria, which he's a fan of. I know I don't like country fried steak, so I simply tried the mashed potatoes and gravy, which were warm and yummy.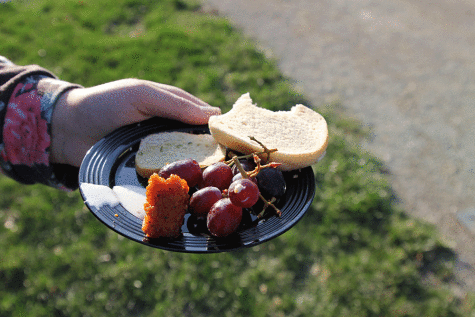 Hereford House Shawnee — buffet (we tried fruit, bread and honey buffalo wings with ranch)
Katherine's rating: 6/10
Clayton's rating: 5/10
By the time we got to the buffet, most of the food was gone, so that lowered our ratings a bit. The buffalo chicken was good, but in the words of Clayton, "just like any other buffalo chicken I've had."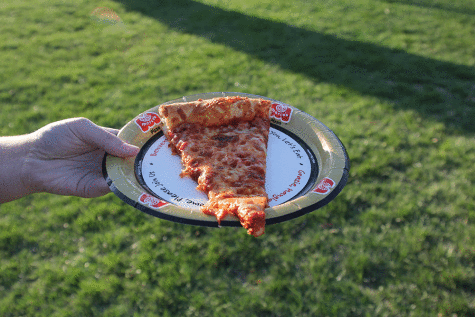 Marco's Pizza — slice of cheese pizza
Katherine's rating: 4/10
Clayton's rating: 8/10
Clayton called this pizza greasy, but in a good way, and very satisfying overall. I was not as big as a fan; the simple cheese and sauce failed to impress my inner pizza slob.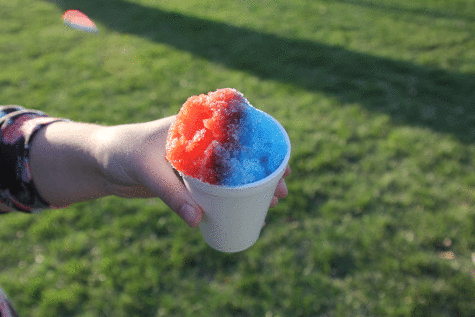 Polar Oasis Frozen Treats Truck — shaved ice, half tiger's blood flavor, half blue raspberry flavor
Katherine's rating: 6/10
Clayton's rating: 6/10
This food truck offered a plethora of flavors, which made for a cool choose your own adventure experience. Tiger's blood was a fun, unique flavor. However, it wasn't anything incredibly special compared to other brands of shaved ice.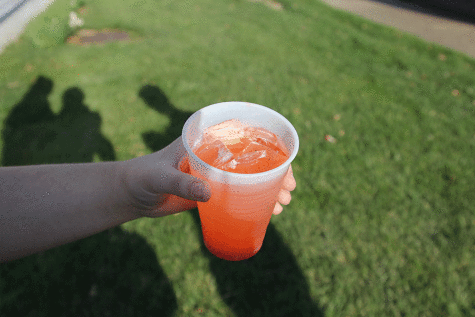 Saints Pub Shawnee — strawberry lemonade
Katherine's rating: 9/10
Clayton's rating: 8/10
Unfortunately, Saints ran out of enchiladas and fajitas before we got around to their booth. This strawberry lemonade was quite tasty, though, so maybe it was a blessing in disguise. The strawberry flavor mixed really well with the lemonade to create a refreshing drink.

Big Bam's Burgers — cheeseburger with ketchup
Katherine's rating: 6/10
Clayton's rating: 7/10
"I'm a big fan of burgers, and this was a juicy burger complimented by a soft bun," Clayton said. To me, there wasn't anything outstanding about this burger, though it certainly wasn't bad.
Overall, Taste of Shawnee was a greatly enjoyable experience and we both hope to see it return next year.