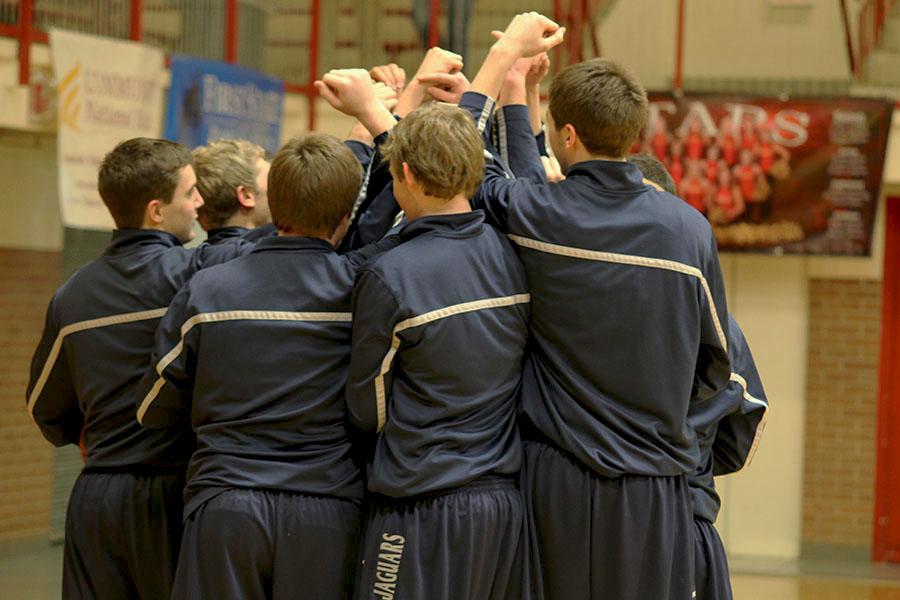 Photo by Karissa Schmidt
The Jaguars fell to the Tonganoxie High School Chieftains 72-59 on Friday, Feb. 7, putting the team's record at 7-5.
While a majority of the first quarter was spent with tied scores, the Chieftains pulled ahead 13-8 with 1:05 to play in the first quarter. The quarter ended with the Jaguars trailing 15-9.
Senior forward Davis Cantwell says the team tried to get their momentum back after the first quarter.
"We knew we were off to a bad start," Cantwell said. "We had prepared hard, and we knew we would be OK."
In the second quarter, the Jaguars began to make a comeback.  After back-to-back three point baskets by sophomore Logan Koch, the Jaguars trailed by only one point, the score being 21-20 with 4:30 to play in the first half.
By the end of the second quarter, the Chieftains had extended their lead to 33-25 to start the second half.
The team planned to put more pressure on the Chieftains in the second half.
We wanted to pressure them more, and force them to turn the ball over," Cantwell said.
The Chieftains kept the lead throughout the third and fourth quarters. The third quarter ended 46-37, Tonganoxie.
The Jaguars put six more points on the board in the last minute of the game, but the Chieftains still ended up on top.
Cantwell said the team is constantly improving.
"We're always making each other better and preparing for the post season," Cantwell said.
The Jaguars' next game will be at home on Tuesday, Feb. 11 against the Bishop Ward Cyclones.