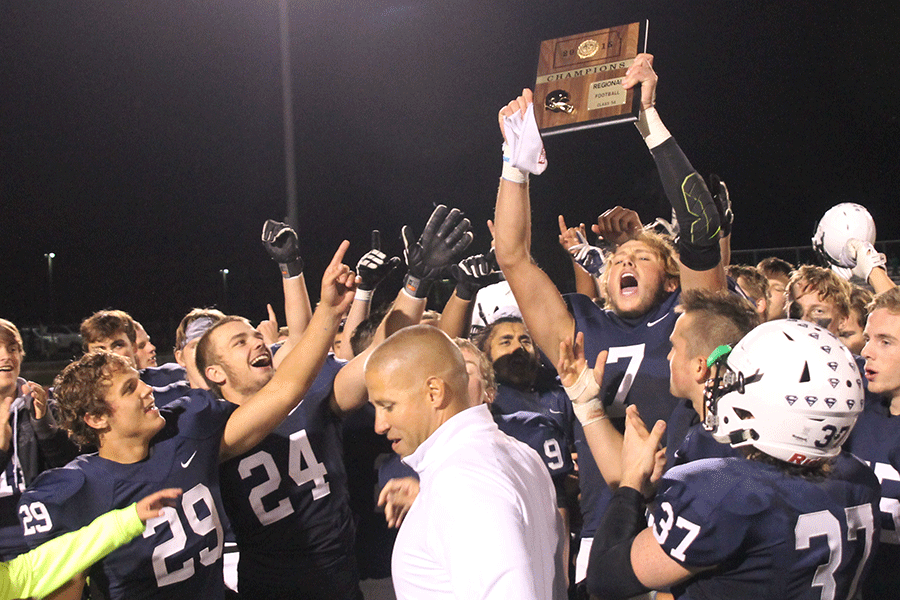 The Jaguars defeated the Leavenworth Pioneers 49-0 in the first round of playoffs on Friday, Nov. 6, becoming regional champions and advancing to the sectionals round of playoffs.
According to senior linebacker Grant Warford, the team was able to come together to prepare physically and mentally for its first playoff game.
"We watched a lot of film and we probably had our best week of practice so far," Warford said. "Everyone kind of bought in and focused up for the week, and it resulted out on the field because we were ready to go."
Within the first 55 seconds of the game, senior quarterback Logan Koch's pass to senior wide receiver Christian Jegen scored the Jaguars their first touchdown of the night. A PAT by senior Andrew Hicks secured a 7-0 lead over the Pioneers.
After the first touchdown, the Jaguars added five more by the end of the half. This included 80-yard and 96-yard touchdown runs by Jegen. With a carry by Krull, Koch scored a 4-yard touchdown. Junior Brady Garrison also contributed to the lead, scoring two touchdowns. By the end of the first half, the Jaguars were up 42-0.
Coming into the second half with a significant lead, the Jaguars knew they had to keep the momentum going.
"We all never unlatched our focus. We came back out and we knew we had to still get stuff done," Warford said.
With 11:46 left in the third quarter, Warford intercepted the ball, leading to the final touchdown of the night, scored by senior wide receiver Lucas Krull.
The Jaguars will play the Pittsburg Purple Dragons Friday, Nov. 13, at Pittsburg. According to Krull, the team will continue to practice for the game the way it has all season.
"We will prepare just the way we prepare for everyone else," Krull said. "We don't need to change anything right now, so, if we keep winning, that's all we've got to do."