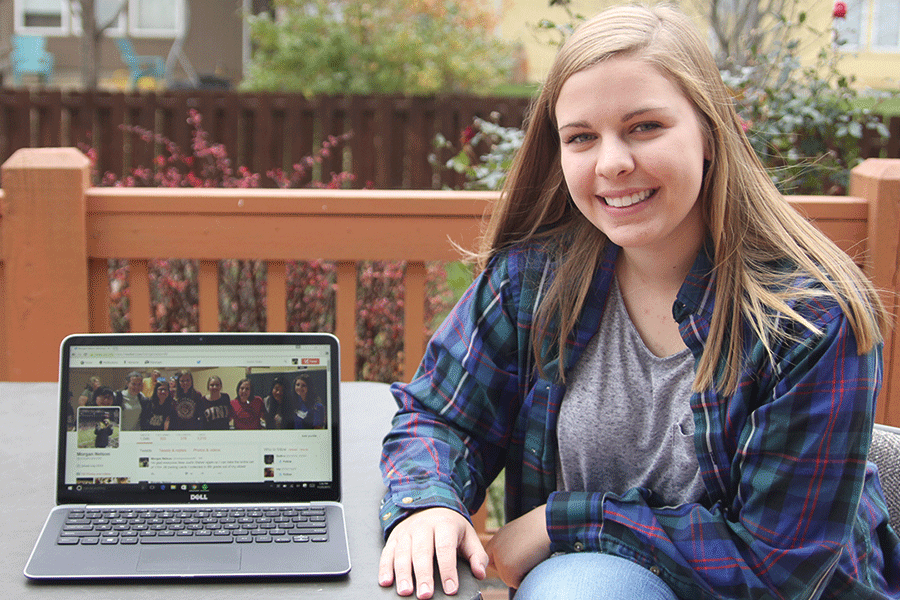 Claire Boone
Phone in hand, senior Morgan Nelson constructs a tweet about the latest football game. Within minutes, her notifications are continuously lighting up the screen, collecting over 70 likes, most of which are from people she doesn't even know.
Twitter success hasn't always come this easily. Nelson started out just like any other 13-year-old girl, expressing her preteen crushes through social media.
"I started my Twitter in eighth grade originally to follow Justin Bieber fan accounts," Nelson said. "But I didn't start real tweeting until sophomore year."
Nelson's tweets today consist of jokes centered around school and sports, especially football, and her Jaguar pride can be easily seen through her admiration of the state game and the sorrowful loss of former athletic director David Ewers.
In addition to her content changing, Nelson's feed from other users has also evolved in past years to be more tailored to local events.
"Twitter used to be just for celebrities," Nelson said. "But now, especially as a senior, it's more about Mill Valley and Royals and stuff like that."
One of her best friends, senior Derek Meeks, believes that Nelson represents the student body well and expresses the everyday thoughts of students.
"Everyone loves her Twitter," Meeks said. "So she gets a lot of great feedback from it. She just finds humor in the most average situations."
Her witty and outgoing personality on Twitter may be surprising for some people, considering how Nelson acts in real life.
"At school, I feel like I'm pretty quiet and people have said that my Twitter is a lot different than what I usually am [like]." Nelson said. "Twitter gives me a platform to think about what I say, [and] at school I don't really talk to people other than [who] I'm comfortable around."
Though this can be positive, Nelson also feels pressure to act a certain way because of how she is perceived online.
"I think some people expect me to be funny at times, even though sometimes I just don't really have anything to say." Nelson said. "I think I talk more and I'm more open now to talk to other people that I wouldn't have freshman year."
Despite her feelings of nervousness, Nelson is appreciative of the friendships she's made through her Twitter.
"There's a lot of underclassmen that I follow back," Nelson said. "That I don't talk to ever, but I see what their lives are like through Twitter."