Social media influences young people to vote
Students share how social media has increasingly prompted people to vote and make their voices heard
With the election right around the corner, many have taken to social media to push others to vote. While much of this has been advocating for specific candidates, a broader push for voting has been the byproduct of social media. Specifically popular social media apps, such as Snapchat and Instagram, are pushing teens to vote by giving people resources to check their registration and informing people how to vote. 
Sophomore Isaac Steiner has noticed a large push on social media for people to vote through different voting movements and posts about the importance of voting.
"I've definitely noticed a push just to vote in general," Steiner said. "There are movements like the Sunrise movement and other electoral movements that are really pushing people to vote not just in the presidential election, but Senate races too."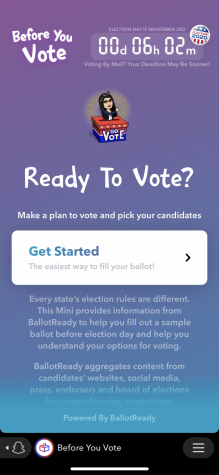 Senior Claire Burke has also seen this push grow as the election nears. 
"I've noticed that the push mostly comes off social media," Burke said. "A lot of people have been posting that is encouraging people to vote by posting deadlines when voter registration is for your state, how to register to vote, where to vote, who to vote for, and a lot like that."
For Kerry Benson, the Strategic Communication Track Chair Lecturer at the University of Kansas, social media's effect on this election has been unprecedented.
"There is no comparison," Benson said via email. "The amount of messaging about the election and voting in general is historic in its scope, particularly on Facebook, YouTube and Twitter."
Benson feels the reason for this uptick in social media use for the election is the divisiveness of the current socio-political landscape. 
"The backstory on the push is a conversation around race, gender and social justice," Benson said via email. "It's difficult to separate what's happening in culture from social media use and the election."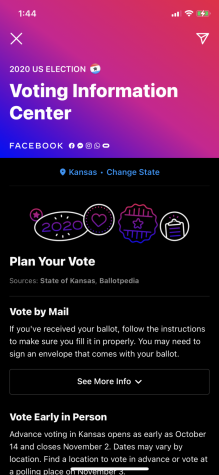 For Burke, reposting information to help people vote has been important.
"I make sure to uplift anything I see," Burke said. "Whether it is voting complications, how to track your ballot, different resources on how to register to vote, different resources on where to vote, who to talk to if you need to figure out your voter registration, all sorts of stuff like that."
One problem Benson has observed about the push for voting on social media has been the fight over misinformation.
"Republican legislators tend to feel social media suppresses free speech, particularly President Trump's," Benson said via email. "Democratic legislatures tend to think social media platforms should be tougher on disinformation and curtail disinformation."
Despite the good that the push for voting on social media can be, Burke has also seen many have problems with it.
"People get irritated when they're faced with a lot of political information coming quickly," Burke said. "A lot of people would prefer to not really engage in politics when they're on social media."
One difference Benson has seen with this election has been how long the lead up has been.
"This election started the day after President Trump was elected in 2016, so the lead up has been long," Benson said via email. "Whether voters wanted Trump or Clinton, they've been vocal in the years between elections in a way Americans hadn't seen in decades. Also, the cultural flash points of race and human rights are lighting up the issues voters will consider in the election booth. That's added to the complexity of the lead up."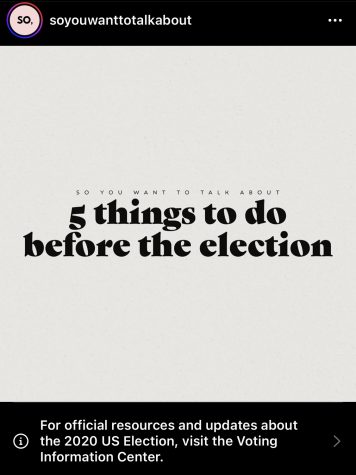 One way that Steiner is using social media to advocate for voting is the push for voting triple, which advocates for waiting outside of polls and asking people who have voted to recruit two of their friends to vote.
"Friend of friend contact is shown to be the number one most effective way to get more people to vote," Steiner said. "If you have a plan, or friends that are pushing you to it, the amount of people voting quickly grows exponentially and will lead to much higher voter turnout."
Compared to elections in the past, Benson feels that social media has significantly changed how information was transmitted, leading many to receive false information.
"The easy answer is its speed. In seconds, a person with an opinion (which we all have) and an inherent bias (we all have) can put a gut feeling or a malicious lie out into the social media ether," Benson said via email. "Because we live within our chosen media ecosystems, we just share with others what we believe they believe. And the same comes back. There's no air to breathe or think in that type of circular thought bubble."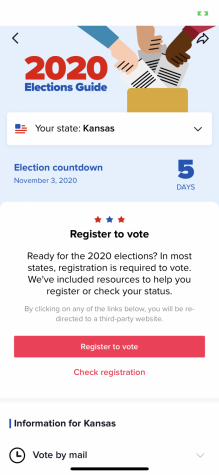 Steiner feels that no matter who a person is, their opinions are affected by social media.
"Even if people think they can ignore it, they definitely can't," Steiner said "Even if you think it doesn't have an effect on you, it definitely does. Just it being there influences you to an extent."
In addition to Steiner, Burke feels that social media has kept voting at the top of people's heads.
"I think it makes it more prevalent in people's minds," Burke said. "Especially because platforms like Instagram and Twitter have all this information and these stickers that when you click on them, it breaks down voting information. I think it's still something that you can't really escape."
In addition to social media, masks have been a way Benson has seen a push for voting.
"A remarkable thing has emerged because of our current COVID situation: mask messages," Benson said via email. "Vote. Vote Democrat. Vote Trump. Vote Biden. Vote Republican. Just vote. Elephant images. Donkey images. A confluence of culture and disease opened an opportunity for messaging."
Overall, Burke sees the push for voting as an inherent good because of the importance of voting.
"I think voting is a way to get your voice heard," Burke said. "It doesn't solve all of the issues that you might see in the world or you might want to fix but it's a good way to feel like you're doing something tangible."
(Visited 4,331 times, 3 visits today)