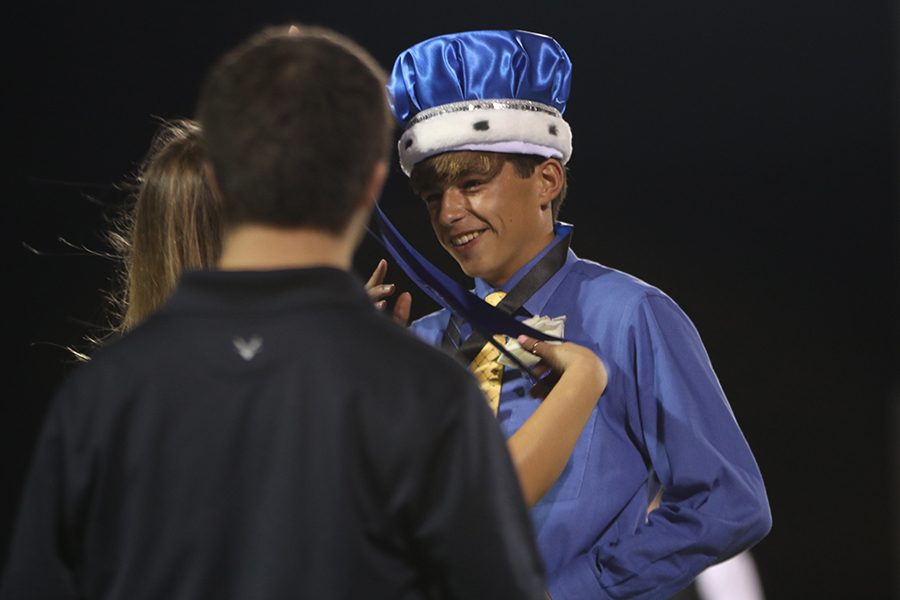 Gabrielle Cabrera
At halftime of the annual homecoming football game, senior Ashlyn Dempsey and Ben Stove were crowned homecoming king and queen on Friday, Sept. 20.
After being announced queen, Dempsey's mouth dropped in shock. She liked all of the support she got from everyone in the school.
"I truly did not expect to win, but when I heard my name it was such a good feeling," Dempsey said. "It's such a good feeling knowing that everyone from your school respects you that much and wants to vote for you. I was super happy about it."
Stove didn't feel worthy of the crown, but is thankful for being able to be involved in the homecoming experienced.
"I truly feel like I don't deserve it, but I'm so grateful for this whole experience," Stove said.
Being in front of the students and community all week, Dempsey felt nervous. 
"It was really nerve racking," Dempsey said. "I'm an outgoing person, but being in front of that many people is always going to be nerve racking."
 During the parade, pep assembly and coronation, Stove felt grateful for everyone around him.
"I definitely had a lot of fun," Stove said. "The other candidates are really great. We had a blast and I'm thankful for all the people that voted for me."
To Dempsey, being homecoming queen centers around the respect from other students.
"To me, it means that I'm really respected by my peers enough to where people would want me to represent them and nominate me," Dempsey said.