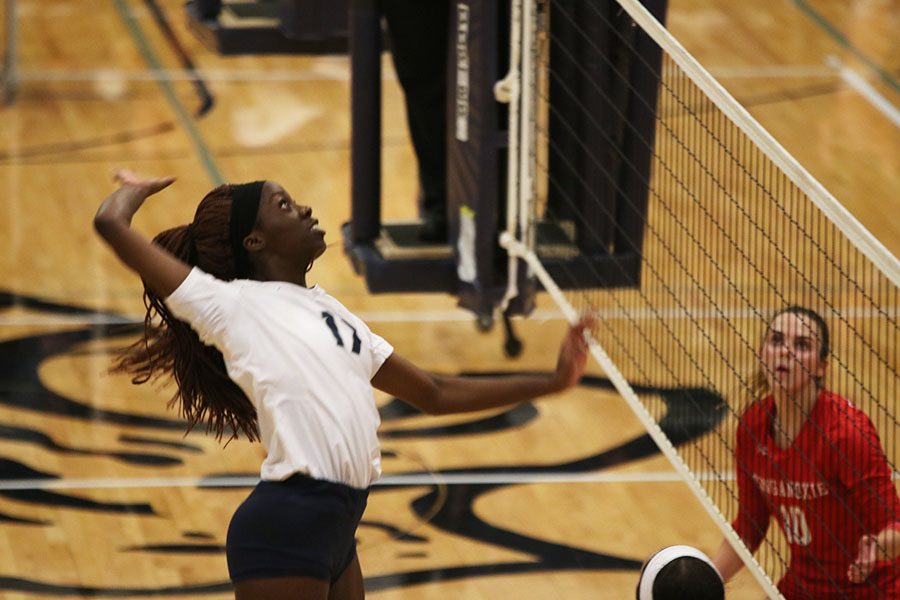 Tatum Elliott
The volleyball team played in a triangular against Emporia and Tonganoxie at home Monday, Sept. 23. The team won both games in straight sets. 
Senior Faith Archibong was happy with the team's results.
"I think the games went really well," Archibong said. "We knew Tonganoxie and Emporia weren't at our same skill level, so we were able to finish in two for each match."
Archibong was happy to have accomplished some of her personal goals in the games as well. 
"I think I transitioned off the net really well," Archibong said. "I've been trying to do that to stay more on the offense, and I also blocked really well and kept a lot of energy."
According to sophomore Kate Roth, despite their wins, the team struggled in a couple areas. 
"We struggled with keeping our energy up throughout the whole game and not playing down to [our opponent's] level," Roth said. 
Roth also thinks the team has grown closer throughout the season. 
"We've bonded really well together and we have all of our inside jokes that keep the energy up and everybody in a good mood," Roth said.
Archibong is proud of the team's strong season so far. 
"I'm really proud of us," Archibong said. "We've won a lot. I think our record is 9-2 or something right now but I'm just expecting us to win a lot more and really go after the hard teams that are tough for us."
Roth wants the team's good results to continue. 
"I have high expectations because I think we have a lot of potential and a lot of talent throughout the whole team," Roth said. "I'm looking forward to playing postseason, hopefully winning substate, and going to state."