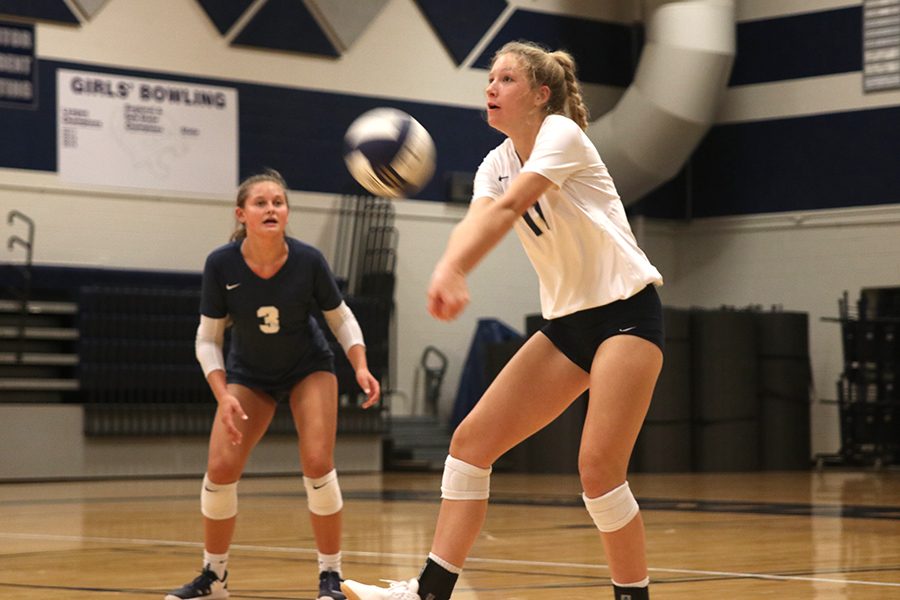 Steven Curto
The girls volleyball team defeated Emporia and Ottawa at home Thursday, Oct. 3, leaving them feeling prepared going into their weekend tournament.
Sophomore Annabelle Manning was pleased with the team's results. 
"I think we all did really well," Manning said. "We had a solid win which is a good way to go into our tournament this weekend."
Despite the team's positive results, they suffered a few difficulties in their games. 
"Tonight we started to underestimate the teams we were playing, and we had to power through to get out of that," Manning said. 
According to junior Carlie Bradshaw, the team had to overcome their obstacles in order to win.
"I feel like the first game was a little slow and we weren't playing as well as we should have," Bradshaw said. "The second game I feel like we didn't play as well as we have been playing but toward the end we pulled together as a team to win."
Manning's goal for the team is to encourage better preparation and higher energy.
"I wish we would've started off strong, come in working harder and prepared to play hard no matter which team we were playing," Manning said. "We didn't do that at first, which got us down in the game. In the future, I want to try to be loud and keep high energy and make the games more fun for us and the people watching."
Bradshaw plans to work on her leadership for future games. 
"I wish that I would have been a better leader on and off the court and not gotten down about mistakes that were being made," Bradshaw said. 
Manning is excited to spend the remainder of the season at tournaments with her teammates.
"I'm looking forward to tournaments because we get to be with each other all day which brings us closer, and that helps us play better together," Manning said.