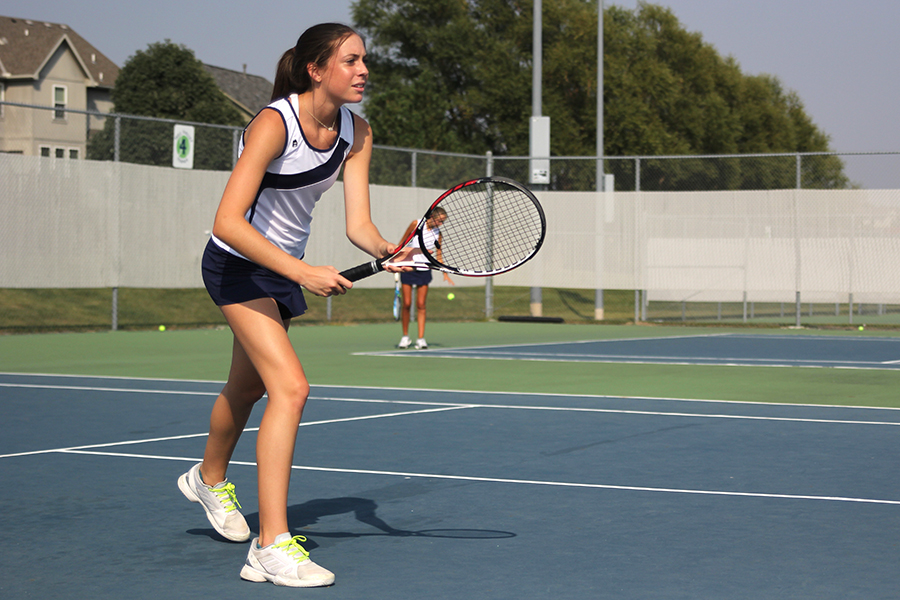 Carter Lawson
Both girls tennis teams competed in singles and doubles at their dual meet at home against Saint James on Wednesday, Sept. 13. The varsity team won 8-4, while the junior varsity team went 12-0.
Although it is early in the tennis season, junior Jordan Dean has noticed growth in the skills of the team overall.
"The team has improved a lot," Dean said. "A lot of us didn't play over the summer, so we've been practicing every day this season. We've improved pretty fast."
Similarly, freshman Sophie Lecuru noted individual improvement in her own playing since the last meet, against Blue Valley Northwest.
"In the past I had some difficulty with double faults," Lecuru said. "But today I tried to eliminate those and it worked out."
Senior Tori Wesp anticipates high potential for the team in upcoming meets.
"I feel like we're going to get technically better and we're going to improve power-wise," Wesp said. "I think we'll do better in meets and have more wins to losses."
Dean defined the main goal for the year as pushing the team to the state-level competition.
"We're trying to progress in the season and then go to state. Just get a lot of girls qualified for that," Dean said.
Lecuru noted the diverse abilities of the team members that would lead them to success.
"There's girls at all skill levels on the team, and we're playing girls at all skill levels," Lecuru said. "Everyone's trying really hard, and that matters."
However, Wesp finds the game in itself a rewarding experience.
"It's just fun to win," Wesp said. "When you know you play well, it's really good."
Both varsity and junior varsity will play on Thursday, Sept. 14 against Lawrence Free State at home. The meet is the activity of the week and the theme is spirit wear.