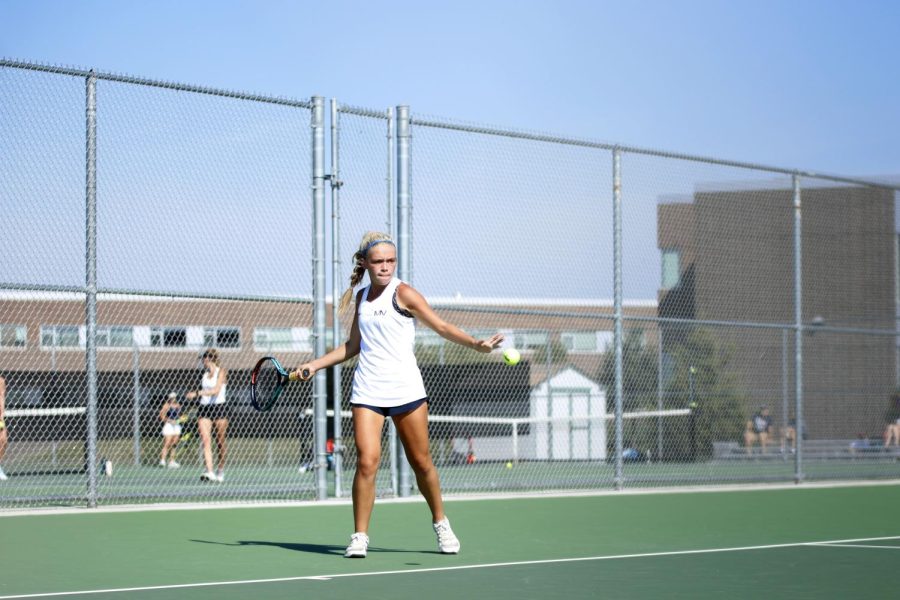 Amit Kaushal
During the two-day meet, seniors Lauren Butler and Eden Schanker, as well as junior Bri Coup advanced to the state meet that will take place at Emporia High School Friday, Oct. 15 to Oct. 16. Schanker felt like regionals gave her good experience before the state meet. 
"Regionals was a really fun experience because we went into it with a really good team that competed very well. Playing with friends is always fun," Schanker said. "I feel really good about our placement in regionals and I am very proud of our team." 
According to Butler, while excited for state, she knows that this week she must push herself in preparation. 
"The best moment was winning our second game against Bonner Springs High School. In order to go to state you have to win two games, and since we won the second game it felt amazing," Butler said. "We will practice the hardest we ever have in the next couple of days. We will leave for state Thursday, [Oct. 14]."
Coup, a singles player, finished 2-2 in her matches at regionals and aspires to continue her great tennis career. 
"I am best at singles by far," Coup said. "I have only been playing for about a year and a half, and next year I want to be three times the player I am now." 
Schanker, Butler's doubles partner, described the difficulties of gaining a new partner right before a big meet. 
"It was extremely difficult to get a new partner right before regionals because we only had one practice together. We had never worked together before, or played a single match together so we didn't know what to expect," Schanker said. "However, we make a great team and we will be even stronger next week with more practice." 
Butler agreed that having a new doubles partner brought difficulties, but felt like her and Schanker played well together. 
"I've watched Eden play before, so I knew how insanely talented she was. I didn't know how we would do together, but we are both very adaptive and smart when it comes to tennis," Butler said. "The most difficult part was getting over the nerves of playing together. We were both nervous for the first day of regionals, and playing with someone for the first time made us more nervous. Once we got the flow of each other, we really worked well together." 
The nervous energy at regionals did not miss Coup, but she knew that she could overcome her nerves. 
"The hardest part of regionals was the nervous feeling before the matches. I knew I had to win to qualify, especially in the first match because you have to win it or else you are out," Coup said. "To overcome it, I told myself that I can beat anyone at the regionals meet. I knew I was mentally the toughest player there. Even if they were better than me tactically, they weren't going to win easily." 
Butler enjoyed her time playing with Schanker at regionals. 
"Tennis is often seen as an individual sport, but with doubles, it's seen as a team sport. I love the moments of excitement between my partner and I when we win a difficult point. When I get frustrated, I know I can always rely on my partner to say encouraging words. It makes the victory a whole lot better when you share it with someone," Butler said. "Eden and I played against some difficult opponents and fought hard for third place. It was a lot of fun and great competition."