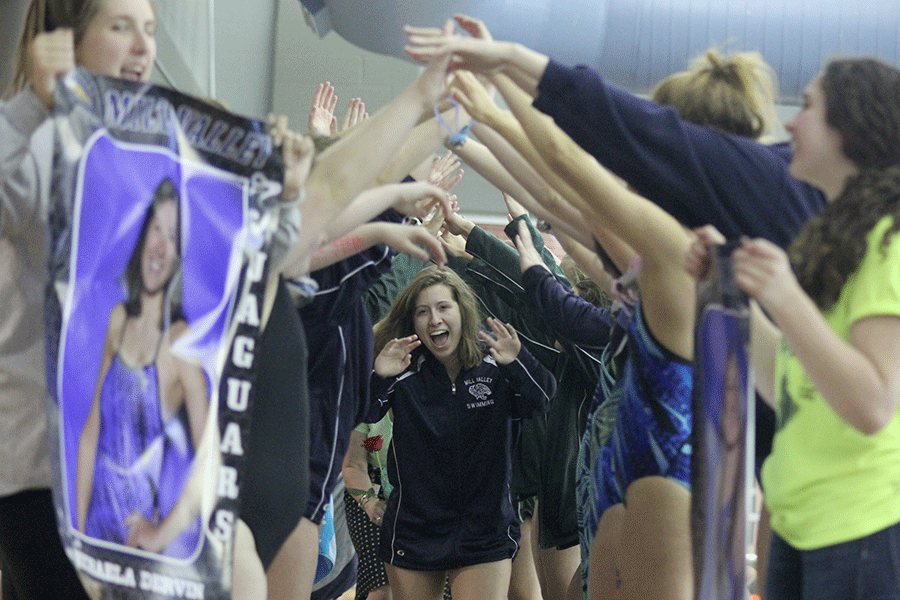 Photo by Morgan Nelson
The girls swim team had its senior night during the Turner Invitational on Thursday, April 30, placing third overall.
Seniors Olivia Hafer and Michaela Dervin walked through a tunnel of their teammates while being recognized midway through the competition.
"[Senior night] was a little awkward because you could not hear the announcements of us so people did not really realize what was going on," Dervin said. "Other than that it was exciting to see all my teammates pumped up to see me, and they gave us some lovely free treats."
According to junior Jennifer Sims the meet felt hectic, but she still had fun talking to her friends.
"The team did pretty well for a lot of the last minute throw-ins and cancellations," Sims said. "My favorite part though was talking with people when I wasn't swimming. I like to get to know people."
Even after all of the changes, several new swimmers swam personal bests including, freshmen Sydney Ralston, Bailey Wagoner, Tori Benson and Amber Zou.
"We competed fairly well because most of the teams we have swam against before," Dervin said. "It just felt like we were pretty confident in our ability and how we were going to do."
In the 200 medley relay, sophomore Elaina Bartlow, junior Sherry McLeod, sophomore Vicki Robinson, freshman Vigneulle Puliatti placed fifth.
In the 200 freestyle relay, juniors Claudia Meredeth and Jennifer Sims, sophomore Alexis Medina, sophomore Maddie Sprenger placed fourth.
In the 400 freestyle relay, Bartlow, McLeod, Medina, and Puliatti placed third.
Bartlow placed sixth and freshman Jordan Robinson placed 7th in the 200 IM.
Senior Olivia Hafer placed ninth, Puliatti placed seventh and McLeod placed fifth in the 100 butterfly.
Merideth placed fourth and  Medina placed 12th in the 50 freestyle.
Merideth placed second, Medina placed ninth and Sims placed 12th in the 100 freestyle.
Junior Margaret Hempleman placed 14th, Bartlow placed seventh and Vicki Robinson placed sixth in the 500 freestyle.
McLeod placed third and Puliatti placed fifth in the 100 backstroke.
Sims placed ninth in the 100 breaststroke.