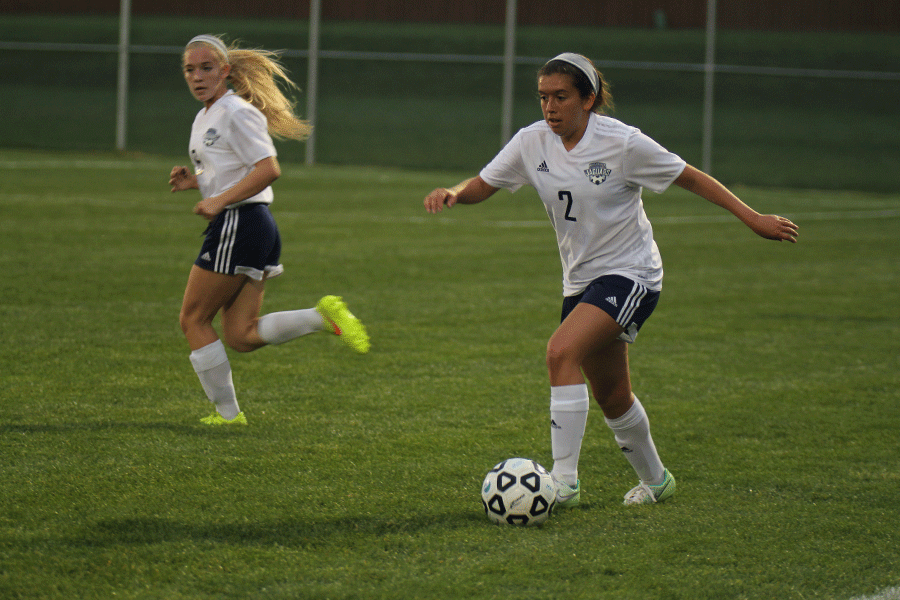 Photo by Margo Wieschhaus
Due to lightning, the girls soccer game on Monday, May 4 against Blue Valley North ended early, resulting in 1-1 tie. The team's record is 9-2-1.
An initial delay in the first half eventually led to the game being called early on in the second half. Players were unable to have the opportunity to play the game in its entirety and and it will not be rescheduled, yet will still be counted as an official game.
"I was a little worried it would get rained out, and I didn't want to have it rescheduled," freshman midfielder Emily Munyer said. "We were tied, so I would have rather kept that momentum going than reschedule the game."
Junior defender Lindsey Hamner said the cancellation had both positive and negative effects for the team.
"I had mixed emotions about them calling the game," Hamner said. "Blue Valley North was a very good team, so I was happy to get away with a tie, but I was a little upset because we were playing well following the first delay. It would have been interesting to see how the game would have turned out after a full 80 minutes."
Despite the short match, team members put forth a strong effort in the first half.
"During the first few minutes [of the game], we played rushed and panicky, but after we realized how good of a team we were playing, we settled down and were able to compete much better as the half progressed," Hamner said.
Munyer said though the team has room for improvements, the overall performance of the players contributed to their success on the field.
"I think we played well considering our opponent," Munyer said. "There were definitely things we could have worked on to play better, but we did a good job before it was called."
The girls soccer team will play its next game Thursday, May 7 against Kansas City Christian at home.